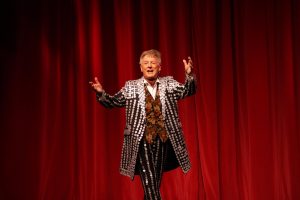 Art & Culture
Ambition, Aspire, Achieve Annual Benefit Night
Newham charity Ambition, Aspire, Achieve offer young people specially tailored experiences and programmes to help them reach their full potential. At their annual benefit night at Brick Lane Music Hall, you can support their work and enjoy dinner in style, all at the same time. This dazzling evening of music hall will be MC'd by the one and only Vincent Hayes, founder of the venue and recipient of an MBE for his services to British music hall.
For your visit
Art & Culture
Millennium Mills
Derelict early 20th century flour mill turned screen icon; this Royal Docks landmark is due to be redeveloped.
New Arrival
Food & Drink
Triple Two Coffee
Located inside the Royal Wharf Clubhouse, Triple Two Coffee sits within the focal point for daily health and fitness classes, swimming and neighbourhood events.
Business
Tate & Lyle Sugars
This refinery on the banks of the Thames has been producing sugar by the tonne for over 140 years.