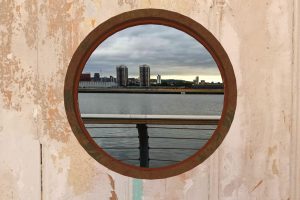 Events
ARGH! Mateys by UCL's Connected Environment Lab
Go on a journey around the Docks to discover stories created by young people hidden in digital portholes as part of this exciting augmented reality-led, interactive trail by the University College London's Connected Environment Lab, an early adopter of the new UCL East Campus.
The trail can be followed online via a memory-map now, please check back with us frequently for more information about the launch of the outdoor trail.
Capturing and replaying a series of digital predictions, ARGH! Mateys has been created by researchers from UCL's Connected Environment's Lab together with young people from Fight for Peace, Youth Empowerment, West Silvertown Foundation and the Royal Docks Learning Activity Centre. Part of the Bartlett Centre for Advanced Spatial Analysis (CASA) at University College London, the Connected Environments Lab is an early adopter of UCL East. This new immersive trail builds on previous projects from the lab which focus on allowing objects in the wild to converse, including talking trees, a tour of Wordsworth's poems and conversational gnomes.
For your visit
Food & Drink
Starbucks Coffee
Just off the walkway linking Custom House DLR with the ExCeL, this branch is a favourite quiet spot for students.
Art & Culture
Making Space: Go the Distance
Installation artwork by Jessie Brennan, created with Peacock Gym by collecting images from the archive of this renowned community boxing hub.
New Arrival
Business
Expressway London
Expressway is a community of almost 200 thriving businesses facing onto Royal Victoria Dock. Recognised as a place where creative enterprises, SMEs and start ups can flourish, no two of their businesses are alike but all are like minded.