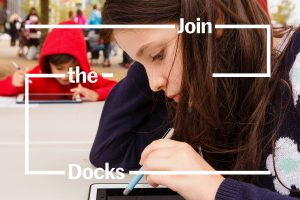 Join the Docks
'Boat Race' Digital Self-Portrait Workshop
Come along and create a unique digital self-portrait using an intuitive creative app on iPads, at this fun workshop for all ages.
Playing on the Cockney Rhyming Slang for 'face', a selfie photograph taken against the iconic landscapes of The Royal Docks will provide the inspiration for your self-portrait.
Your completed self-portrait will be added to an evolving exhibition at The Silver Building.
Go and find your Boat Race projected on the walls of The Silver Building gallery from 17th – 23rd August.
Boat Race is an opportunity for families to learn new skills together, celebrate the eclectic faces, 'Boat Races', of the diverse Royal Docks communities and explore its unique environment.
For your visit
Food & Drink
Fox@ExCeL
Relaxed pub sprawling across different rooms of an old tobacco warehouse.
Food & Drink
Nakhon Thai
Thai restaurant overlooking the docks, with a Polynesian-style cocktail bar.
Activities
Royal Docks CrossFit
Gym dedicated to CrossFit, the gruelling strength and conditioning phenomenon that athletes swear by.
Similar events