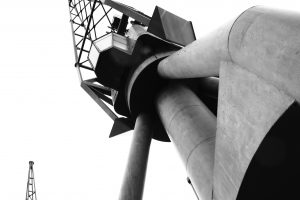 Join the Docks
DOCK LANDS PEOPLE by Michele Turriani and Trinity Art Gallery
Delve into stories, articles and stunning photography with Michele Turriani and Trinity Art Gallery's community-based project, DOCK LANDS PEOPLE. This project celebrates the diverse characters, architectural structures and heritage within the Royal Docks and documents the people who work and/or live in the surrounding areas, and have done so for most of their lives.
DOCK LANDS PEOPLE aims to introduce a new community to their own history and an old community into today's history in the making, through the images and stories of people who call this area their home. Immerse yourselves in the images and stories of these characters from the Docks and consider the wealth and depth of heritage around them, and other local residents.
London-based Italian photographer and director, Michele Turriani centres this work with photographic essays which have been produced and co-ordinated by artist-led gallery, Trinity Art Gallery, which is based in London City Island & Goodluck Hope in the Docklands.
DOCK LANDS PEOPLE is available to view online now.
---
Further information on the latest government guidelines can be found here: https://www.gov.uk/guidance/local-restriction-tiers-what-you-need-to-know
For further information on 'what you need to know' the Mayor of London has published information on the London.gov website which can be found here: https://www.london.gov.uk/coronavirus/coronavirus-what-you-need-know
For your visit
Places To Stay
Holiday Inn Express
There's unlimited breakfast at this three-star hotel right next to Royal Albert DLR.
Food & Drink
Airline Cafe
No one complains about all-day breakfast for under a fiver. Right next to the ExCeL, this cafe-diner opens early to late.
New Arrival
Food & Drink
The Snack Shack
Homemade cakes and hot food are on offer at this friendly and laid-back spot on St. John's Green.