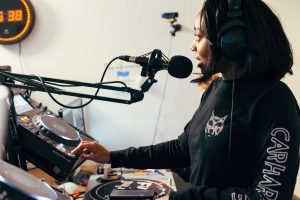 Art & Culture
Erica McKoy at EFG London Jazz Festival
Erica McKoy is a presenter and DJ from London. She currently hosts the flagship morning show WW DAILY on Worldwide FMshares the best in exciting and promising new music. Her work has taken her all over the world with DJ gigs and research projects in East Africa, Europe and North America.
For your visit
Food & Drink
The Living Room
The Good Hotel's floating restaurant dishes up locally-sourced comfort food with a Spanish twist.
Places To Stay
Premier Inn
Perfectly positioned for access to the ExCeL.
Food & Drink
Nakhon Thai
Thai restaurant overlooking the docks, with a Polynesian-style cocktail bar.