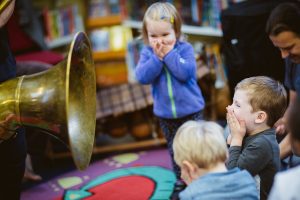 Family
Jazz for Toddlers at EFG London Jazz Festival
Join us at Jazz For Toddlers this November for an interactive musical session for children aged 2-5 and all the family. This fun and dynamic workshop, led by Juliet Kelly and Tony Kofi, introduces toddlers to the wonderful world of jazz as they explore a range of sounds, techniques and styles.
For your visit
New Arrival
Art & Culture
Making Space: Go the Distance
Installation artwork by Jessie Brennan, created with Peacock Gym by collecting images from the archive of this renowned community boxing hub. Part 1 of 4.
Activities
Emirates Air Line
This cable car flying between the Royal Docks and North Greenwich offers panoramic views of the river.
Food & Drink
Top 1 Forever
Modern British restaurant overlooking of the water, with a wood-fired oven.