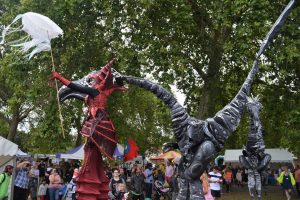 Ferry Festival Launch
The Ferry Festival has its roots in the 70s, when the 'island' communities of Silvertown and North Woolwich came together for pram races, dressing up, tug of war, and a procession around the streets.
For the past two years, Ferry Festival: Past, Present & Future has been dedicated to reviving this knees up, hosting a local festival complete with music, sports, movie nights, giant dinosaurs and more.
The festival is back for a third year running, and it all kicks off at this evening of music and celebration. The party is accompanied by good beer from Husk Brewing and good conversation about the history of boundaries in Newham, courtesy of the Royal Docks History Club and their special guest Tom Furber of London Metropolitan Archives.
Part of the London Festival of Architecture 2019.
For your visit
Community
Asta Community Hub
Asta takes a holistic approach, supporting the North Woolwich and Silvertown community from birth to old age.
Outdoors
St John's Green
Community garden with allotment and children's play area.
Food & Drink
The Girl of Sandwich
Primarily a takeaway, this sandwich shop is popular with locals and workers alike.