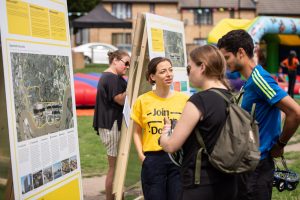 Events
Join the Conversation: Our Consultation Programme
The Royal Docks is on an exciting journey. As London's only Enterprise Zone, the area is set to become a leading example of regeneration. Over the next few months we will be touring the area in a series of pop-up consultation events and activities.
Keep an eye out for our eco-friendly Royal Docks milk float as we do the rounds this summer at a number of events. We won't be delivering milk, but we will be delivering the opportunity for you to have your say as part of our public consultation programme.

Watch this space for more events to come over the summer. You can also share your ideas online.

Newham Chinese Association Community Lunch
Monday 19 August 10-1pm
Beckton Globe Library, 1 Kingsford Way, E6 5JQ
Everyone is welcome to attend this community lunch; you do not need to be a member of the Association! However, if you would like lunch, please book ahead by calling 020 7474 7715.
Freemasons Road
Tuesday 20th August 5pm–8pm
Outside, on the corner of Freemasons Road and Coolfin Road
Silver Building
Thursday 22 August 11-3pm
60 Dock Rd, E16 1YZ
Rathbone Market
Friday 23 August 2-5pm
Rathbone Market Square, E16 1EH
Royal Wharf
Wednesday 28th August 4pm–8pm
Outside, near Starbucks Royal Wharf, E16 2SB
RAW Labs
Saturday 31st August, 12–4pm
RAW Labs, Royal Albert Wharf, E16 2QP
RDLAC drop-in
RDLAC, Albert Road, E16 2JB
Not free to attend any of the events above? You can drop in to the Royal Docks Learning & Activity Centre throughout August and September and complete a questionnaire or leave a comment. Unlike the events above, our team won't be present, but we'll be collecting all comments. The centre's opening hours are 9:30–6pm, Monday to Friday.

Photo at top: Stephen Wright.

For your visit
Places To Stay
Hampton by Hilton
A reliable, upper mid-range option just east of Connaught Bridge.
Places To Stay
Travelodge London ExCeL
A good budget choice, eight minutes walk from the ExCeL centre.
Places To Stay
Moxy London ExCeL
Marriott's boutique brand, Moxy, offers a laid-back alternative with cheerful colours and cheaper rates.