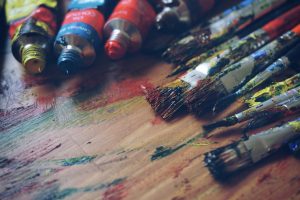 Events
Learn how to paint landscapes in 5 weeks
This five week course is for both beginners and more experienced adult painters.
In the first two weeks Preeti will take you through step by step how to paint a landscape, teaching you techniques on the way. The final three weeks will be spent creating your own landscape, with hands on tips and advice from Preeti.
The course will run every Tuesday (7-9pm) for five weeks from the 17th March. The cost is £50 for five two-hour sessions. This includes all materials, paper, canvases and tuition.
If you need more information please call Royal Wharf Community Dock on 0203 2826629.
In this 5 week course you will learn the key skills in painting landscapes and have two completed paintings to take home.
For your visit
Art & Culture
The Silver Building
Once the offices of Carlsberg-Tetley, this concrete block now offers workspaces to dozens of creative businesses. Look out for their regular events and exhibitions.
Art & Culture
Brick Lane Music Hall
Music hall is a dying Victorian tradition, and this is historic hall is the only permanent venue for it that remains.
Community
Britannia Village Hall
A hall-for-hire that holds 200; home to multi-faith activities, exercise classes, English lessons, and more.