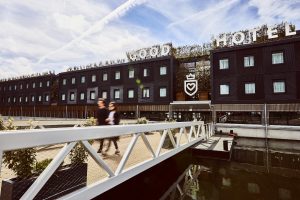 Events
Mother's Day Weekend at GOOD Hotel
It is with regret that we announce the postponement of this event until further notice

Make it for Mum

Sat 21 March | 10.00-11.30, The Living Room, FREE
Join the GOOD Hotel for a morning of crafting. The Good Team will lay out a table of pens, papers, scissors and glue so you can make something for Mum on this special weekend.
Book ahead "Make it for Mum": events@goodhotellondon.com
Mama Drinks on Us
Sun 22 March | All day, The Living Room
Book a table with us this Mother's Day, and every Mum can claim a free drink on us - because she deserves it! Offer includes house wines, fizz, soft drinks and classic cocktails. Book ahead "Mama Drinks": service@goodhotellondon.com
For your visit
Places To Stay
Connaught House Hotel
This Grade II-listed building provides comfortable rooms and classic pub dining.
Art & Culture
Making Space: The People's Plan
Large-scale artwork reproducing 'The People's Plan for the Royal Docks,' a 1980s community-led project to oppose the airport.
Places To Stay
Good Hotel London
This floating hotel is also a not-for profit organisation that invests in the local community.