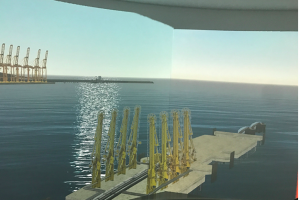 Join the Docks
Stop Press News by Eloise Hawser
Connectivity and heritage are key to artist Eloise Hawser's news-mapping project, Stop Press Now. Eloise will be working with local community groups to utilise historic newspaper archives and build a digital map, and create a walk around the Royal Docks so you can follow in the footsteps of forgotten local stories across time.
A resident artist at London's Somerset House, Eloise has a longstanding interest in the production and circulation of the news and will explore this through her latest project. Through a series of workshops at archives and libraries, Eloise and project participants will trace how the Docks has been imagined in print across its local publications, from front page splashes to classified ads.
No less than twenty six newspapers have served the royal Docks since the 19th century, all with different tones, formats, and political agendas, from the suffragettes' radical Women's Dreadnought of the 1920s to the 1980's Dockland's News - notably funded and vetted by the LDDC. How have the Docks been differently imagined across so many of these papers? How are these papers 'place-making'?
Stop Press News will explore these questions through a series of workshops. After examining archival material across newspapers and journals, Eloise will trace how news stories past and present are rooted in local neighbourhoods, including their geography, architecture, and people.

For your visit
Food & Drink
The Girl of Sandwich
Primarily a takeaway, this sandwich shop is popular with locals and workers alike.
New Arrival
Food & Drink
Perky Blenders
Everything about Perky Blenders x Goodvibes is upbeat and friendly, from the name and the decor all the way to its coffee.
New Arrival
Food & Drink
The Windjammer
The Windjammer is a stunning pub with a big focus on fresh, seasonal food, a community atmosphere and exceptional service.