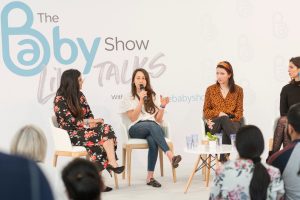 Events
The Baby Show
Shop from over 200 leading and boutique baby brands so you can compare and try before you buy. Experience big savings with show exclusive offers, live product demonstrations and innovative launches from top brand ambassadors.
Enjoy complimentary Live Talks from UK top parenting experts and celebrities, pick up weaning hacks from top foodie experts in the NEW Weaning Kitchen and discover the latest maternity trends, baby clothing and must-have buggies with our NEW live Catwalk.
Get free advice on any sleep concerns from our top sleep specialists at the NEW Sleep Clinic plus make your day hassle-free from our complimentary facilities including the Baby Feeding Café and Lidl's Lupilu Baby Changing Room.
Plus, launching for 2020, a new VIP ticket will enable a limited number of 'Very Important Parents' to have a premium show experience, exclusive access to the VIP Lounge, afternoon tea, a pampering session and a luxury goody bag.
For your visit
Food & Drink
Nani Café
Beans on toast, paninis, and other homely lunch options at equally homely prices.
Food & Drink
The Crystal Café
Overlooking the docks, this cafe serves home-made salads and bistro-style sandwiches.
Food & Drink
Tapa Tapa
Tapas at this red-bricked Spanish place just inside the ExCeL comes traditional or with a modern twist.