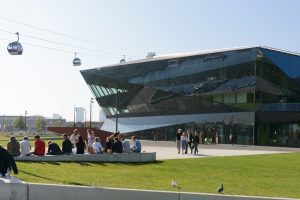 The Crystal Exhibition Tour
Free guided tour of The Crystal exhibition: The Future of Cities featuring interactive exhibits, films, and animations, allowing visitors to explore a range of issues including city trends, urban planning, smart buildings, safety and security, energy, water, healthy lifestyles, environment, and mobility.
For your visit
Food & Drink
Airline Cafe
No one complains about all-day breakfast for under a fiver. Right next to the ExCeL, this cafe-diner opens early to late.
Places To Stay
Connaught House Hotel
This Grade II-listed building provides comfortable rooms and classic pub dining.
Activities
Wakeup Docklands
Wakeboarding, paddleboarding, and paddleboard yoga – for beginners and back-flippers alike.