Community news
Create Your Docks Round 2 – Meet the recipients
The Royal Docks Team is proud to announce £93,000 to 7 projects as part of the Create Your Docks (CYD). CYD has supported projects ranging from outdoor park-based wellbeing activities for children and young people to theatre workshops, film screenings, and immersive theatre performances, to live demonstrations of recycling waste into useful products.  
The fund aims to support people, community groups, and grassroots organisations to play a role in shaping a vibrant and inclusive location for all Londoners. We want local communities to deliver activities that celebrate the area's rich heritage and diversity and host local activities that are welcoming, inclusive, and create a vibrant sense of place. One of Create Your Docks key priorities is to create an opportunity for a range of communities to come together and celebrate the area's rich cultural diversity – we are delighted with of quality and range of this year's funded projects that place communities centre stage.
We are proud to announce round 2 recipients:

Our Space4me:
The5es Development were awarded £15,000 to develop 'Our Space4me' - a series of outdoor parks-based wellbeing and social connectivity activities for children and young people with special needs and disabilities. Activities will offer children and young people access to new opportunities that develop crucial skills which will help them build new friendships. Those relationships will be key as they learn the importance of diversity. The programme of activities will take place from July -August 2022 and include roller skating, loud yoga, massage, reflexology and Shiatsu.

---
ReCyrcle were awarded £14,722 to deliver 'Recycle Dock' - a community maker space project that fosters sustainable creativity and promotes the circular economy in the Royal Docks. They offer a series of live demonstration workshops where participants can walk in with their own plastic waste and learn how to transfer them into useful products such as coasters, phone cases, and key rings. The Recycle Dock project is designed to change people's perception of waste, educate them more about recycling and have a positive impact on the local environment. Demonstration workshops will take place from August-October 2022.

For more information about the workshops http://www.recyrcle.co.uk/
---
Create your docks is only in its second round but the Newham Chinese Association have already won grants in both. This time, they were awarded £10,823 to deliver 'Hello Summer 2022' - a series of activities that connect the Chinese community to the Royal Dock through walking groups, cycling, dragon boat demonstrations, urban hiking, badminton, and a cultural book club. Their commitment to the area and the work they did with a second pitch means we are delighted to support them again. The Newham Chinese Association works with elders (50-80+) and volunteers (30+) to reduce isolation and encourage language skills and mobility. Something that has been so vital as we recover from the pandemic.
To find out more visit: https://newhamchineseassociation.wordpress.com/
---
Westwood to Wharf | Rooted Beings - A Journey in Urban Nature
The Royal Docks Communities Voice were awarded £14,996 to deliver 'Westwood to Wharf'. It's a project created to meet both the needs and aspirations identified above through a co-creative exploration by the communities of Royal Wharf and Britannia Village primary schools. The project will explore the nature of their journeys to school, how they currently use the space around their schools and what they envisage might be their ideal sustainable public realm.
To find out more visit: http://www.rdcv.org.uk/
---
Performance Infinity were awarded £15,000 to deliver 'FeastFest' - a festival dedicated to those who love arts, food and life! A multidisciplinary festival combining sound theatre, street theatre, film screening and workshops and exhibitions. Our projects are celebrating cultural diversity and encourage community creativity and participation. All the events are free and take place August-October 2022.
To find out more visit: http://www.feastfest.org/
---
Painting in the Park/ Process Art Exhibit
Waymakers Kids were awarded £15,000 to deliver 'Painting in the Park,' - a series of activities for families, children and youth across the Royal Docks and Newham. Activities aim to inspire participants to create process art inspired by the environment of Thames Barrier Park, Thames River and the cityscape. The artwork produced will be exhibited in a 5-day show at the growing cultural centre that is Royal Albert Wharf - Bow Arts Foundation.
To find out how you can get involved visit: http://instagram.com/waymakers-kids
---
West Silvertown Community Events
The West Silvertown Foundation was awarded £7,336 to deliver 'West Silvertown Community Events' a series of events that focus on showcasing a unique aspect of West Silvertown. The preparation process will be just as important as the actual events. There's something for everyone, from Summer Fun Day and Big 'Em Up showcase to Royal Wharf Fun Day to Interfaith Diwali celebration.
To find out more visit: http://www.wsfroyaldocks.org/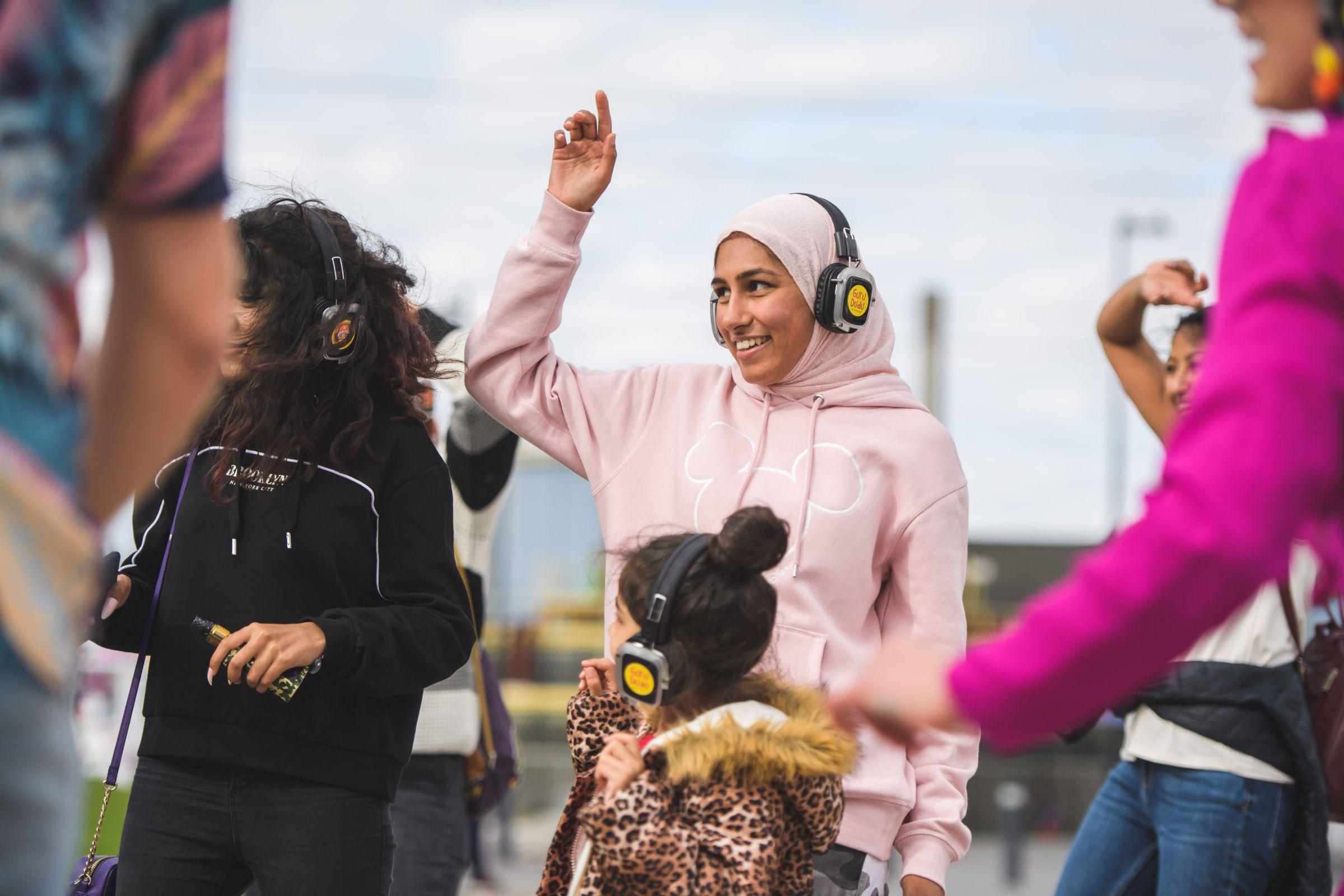 Create Your Docks History:
In 2018, the Mayor of London, the Mayor of Newham and the London Local Economic Action Partnership (LEAP) approved an ambitious Delivery Plan Delivery. The Royal Docks Enterprise Zone Programme priorities include:
Place: Creating a major mixed-use destination – improving and activating public spaces and use of the water for all.
Connectivity: Boosting accessibility and active travel – improving local mobility and connections in accessible, inclusive, and sustainable ways.
Economy: Driving the capital's productivity and growth – creating economic opportunities for local people through skills, employment, and supporting entrepreneurs.
Culture: Powering London's creative engine – building a vibrant local scene for community arts, heritage, culture, and creativity.
Identity: Locally driven and globally positioned – celebrating and showcasing the Royal Docks' diverse communities through their stories.
The 'Create Your Docks' fund will play a leading role in creating a place that sets new standards for sustainable and responsible growth, and which supports London to be a more open and inclusive global city.
Create Your Docks – Round 1 successfully awarded eleven projects ranging from community greening, digital storytelling activities, mentoring and training opportunities, and more.
To find out more about round 1 successful grants greets click HERE
Create Your Docks round one testimonials:
Farah Mahammoud, You Press Founder/Director said: "The Create your Docks fund empowered us to form very promising partnerships and collaborative opportunities in Newham and offered an opportunity for You Press to officially move back to Newham - where our journey began as a social enterprise. All these amazing outcomes would not have been possible without the Royal Docks support."
Matt Ponting of Dockside signs said: "Working on the Create Your Docks initiative has been really exciting as it has given me the opportunity to make public impact in my local area that will hopefully encourage locals and visitors to explore the docks and find out more about the hidden stories behind it."

Stories from around the docks