Community news
Shaping solutions together: towards a new Community Strategy for the Royal Docks
Big conversations are taking place in the Royal Docks ahead of our publication of an overarching Community Strategy around the end of this year.
It's a strategy that builds on how far we've all come over the past two years, through nearly 2,000 people generously sharing their time and thoughts on the area's future as well as project-specific consultations. The Covid-19 response has also catalysed new local connections, placing diversity squarely at the centre. Here's how new and existing locals are working together so that everyone can thrive in the Royal Docks.

Working together in a crisis – and beyond
The pressures of the pandemic have intensified the challenges facing Newham – employment issues, household and child poverty, public health, racial injustice, and opportunities for young people have all become more urgent. People are keen to help, and our area's diversity is a unique strength. But how can we all come together to get the best results?
During the depths of the lockdown, people from 22 organisations gathered at our Royal Docks Communities Webinar, keen to do what they could to help out in the crisis. Right away, a digital space was created for community organisations in the Royal Docks to share information and resources. With many different organisations offering food, money and other necessities in a rapidly developing situation, coordination was vital.
The goal of the Community Strategy is to build resilience so that the Royal Docks is a thriving area that puts wellbeing at the centre.
Staff and volunteers at Fight for Peace, the local martial arts group, delivered food in the community alongside RDLAC and the West Silvertown Foundation, while also arranging online workouts to stave off inactivity and isolation. There was also a great need to get rough sleepers into shelter, and coordinate food package distribution in the local area, and to secure parking for the NHS Nightingale emergency hospital.

Building new networks for the future
The pandemic has brought home the importance of making it really clear for people how they can access resources, funding and grants, and how to combine their skills with others and have a bigger impact. As a result, the Royal Docks has never had a stronger network to call on for its longer term goals: a regeneration that's inclusive and has equitable benefits for all.
It was inspiring to hear... that the Royal Docks Team are putting so much faith into the local community to be a part of the regeneration.
Natalie Dinsmore at Community Food Enterprise
So what's next? In recent months, community organisations have been matched with local artists to run workshops, both digital and in-person, to collect ideas for how to improve public spaces. For instance, the 5Es, a group working with children with special needs and disabilities, has held a successful get-together with artist Kimbal Bumstead. Meanwhile, the Newham Chinese Association has been reaching out to isolated seniors in the Chinese community to hear about their experiences with public spaces in the Royal Docks.
After a recent Royal Docks Good Growth Fund information session, Natalie Dinsmore at Community Food Enterprise commented, "It was quite inspiring to hear about not only the plans and logistics of the fund, but the fact that the Royal Docks Team are putting so much faith into the local community to be a part of the regeneration." The session highlighted how £4m of the £13m fund will be ringfenced for local community capital projects and there will be on-going support for organisations to access funding.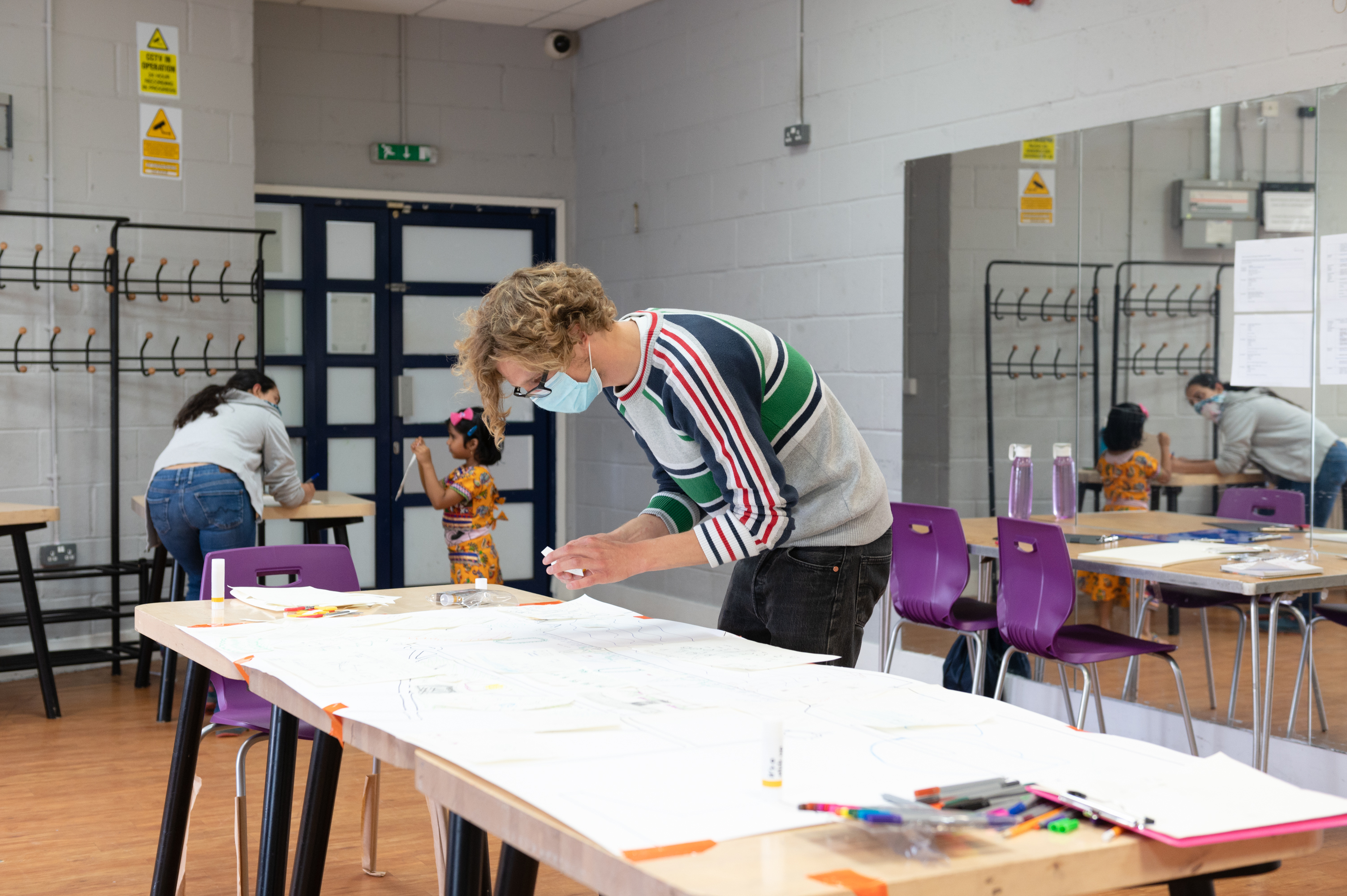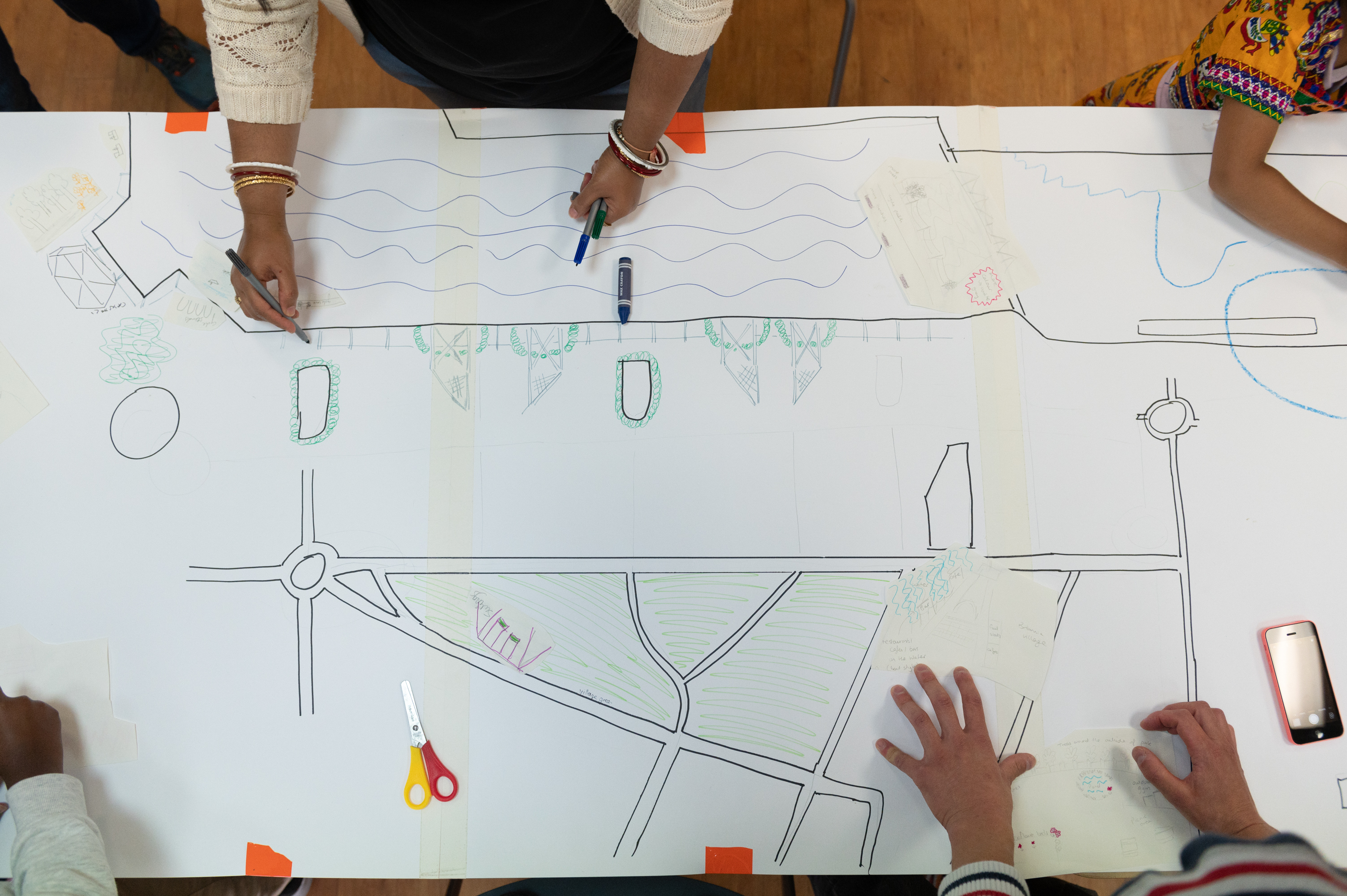 Towards a Community Strategy
The new Community Strategy for the Royal Docks area, to be completed this year, brings together a long-term plan which outlines how meaningful community participation will be enabled. This will ensure community benefits of the regeneration will be maximised across the different delivery projects and programmes. The aim is for the Royal Docks to meet the diverse needs of local people and the wider borough, a place that can be enjoyed by all people inclusive of different backgrounds such as race, age, religion, ability, gender and sexual orientation.
Ever since it was established in 2018, the ambitious plans for the Royal Docks Enterprise Zone have been committed to ensuring local communities are able to influence and benefit from the area's transformation. Community-led workshops, online surveys, one-to-one conversations, pop-up activities and even a milk float have gauged local opinion. Last year, the Royal Docks Conversation marked the start of a bottom-up development process to unlock the creative potential of the area.
Skateboarding is not that great in this area because there's cobblestone everywhere.
Jagdeep, resident at Britannia Village
Including people in these decisions means asking about everyone's habits, wants and needs, so that architects can take this into account when drawing up new spaces.
Open spaces are nice, but as Britannia Village resident Jagdeep pointed out in this video shared by the West Silvertown Foundation, if you're a skateboarder like him, there's far too much cobblestone! A park sounds lovely, but maybe what people really want is somewhere to sit within sight of the playground, or a new route to the train that's safe to walk at night. The solutions to these problems come easier when communities are central to shaping them.
All the work taking place in the Royal Docks fits with the wider community goals of the London Borough of Newham, whose Covid-19 recovery and reorientation plan covers everything from economic prosperity to green space. In the Royal Docks Team, our approach has always been to work alongside people who live and work in the area, whether that's the local tree-planting scheme or the redesign of Thames Barrier Park, both of which we've designed together with local people. The goal of our Community Strategy is to strengthen the community for the longer term, and build resilience so that the Royal Docks is a thriving area that puts wellbeing at the centre.
The new Community Strategy for the Royal Docks area will be completed by the end of this year. Subscribe to our newsletter or follow us on social media (handles above) to join the conversation and learn about all the ways to get involved.
If you're a local community organisation, business, developer or live locally, please get in touch if you'd like to connect with others in the Royal Docks for an ambitious approach to improving the area. We are especially keen to hear from organisations working with underrepresented sections of society, as well as from young people, youth groups, and organisations with opportunities for young people.
Stories from around the docks