Art & Culture
The Pews and Perches design competition 2023 - Winners!
London Festival of Architecture (LFA) and the Royal Docks Team (RDT) have announced the winning teams of the Pews and Perches competition. This commission will see five emerging designers, artists, architects and college students install a bespoke public bench in the Royal Docks as part of LFA2023 in June.
Pews and Perches, now in its fourth year, is one of several public realm competitions run by LFA in partnership with the Royal Docks Team that aim to support young and diverse talent to break into the built environment industry. In the context of the Royal Docks, it offers a unique opportunity for emerging talent to deliver a public project, which will stay in place for at least a year following LFA2023.
For many of the winning teams, this will be their first commission and is an excellent opportunity to showcase their talent to a national audience.
The Judging Process
Four of the winning proposals from emerging design teams were chosen following an open competition for students, recent graduates and new practices. In addition, the judges selected a winning design from a category open only to student teams from the London Design and Engineering University Technical College (LDE UTC) at the Royal Docks which offers a technical-led education to 14-19 year olds.
The judges sought design proposals that would encourage those who live, work in and visit the Royal Docks to come together and have meaningful exchanges within the public realm – true to the LFA theme 'In Common'.
Together these benches will celebrate a fresh perspective on design while offering imaginative places for the public to sit, relax and interact with the unique waterside setting.
The Winning Teams
The design teams commissioned to create benches for Pews and Perches are Akmaral Khassen, AKASAKI VANHUYSE, PAN- PROJECTS, Studio Groove, as well as Jericho and Nicolos, students from LDE UTC. Each team offers a unique perspective on the brief, meaning the five benches delivered will be very diverse in their response to the theme, approach to materiality and design.
Akmaral Khassen's bench comes from a feminist angle; it makes a 'nod to women who stand together against violations against them and their bodies' drawing on events of the political events of recent times. In contrast, AKASAKI VANHUYSE's bench looks to the Maritime and Industrial Heritage of the Royal Docks area, using sustainable bricks to create a rounded shape designed to be inviting and create a natural flow around the bench. Similarly, Studio Groove thought extensively about the site's history when conceptualising their 'Chit Chat Chair', which is designed to bring back the bustle of London's old port, constructed in timber.
Taking a strong environmental angle, PAN- PROJECTS' bench will be constructed using waste from the Thames, configured to be an indicator measuring our current actions of cleaning up the Thames. Likewise, students at LDE UTC, Jericho and Nicolos plan to re-use materials, taking reclaimed material from 'A Cautionary Benchmark' by Andre Kong, a bench installed for LFA2022, as a primary medium in the creation of 'Round the Neighbourhood' which will facilitate social contact on the waterfront.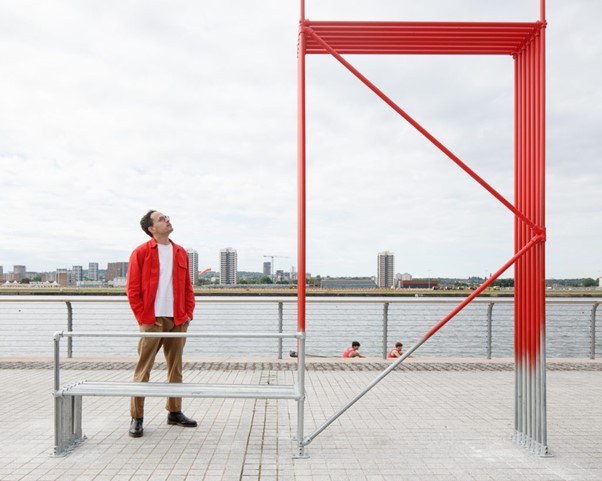 LFA and RDT are proud that previous winners are offering a foundation for this year's teams to build upon. This relationship has been enhanced by LFA's Mentor Programme, which aims to further support the careers and upskill young talent. This programme includes Andre Kong's return to the Pews and Perches competition to mentor LDE UTC students and support the development of their proposal.
Team Biographies
AKASAKI VANHUYSE is a London-based architecture and design studio established in 2022 by Japanese architect Kenta Akasaki and French designer Astrid Vanhuyse, following experiences at Matheson Whiteley (UK), Nendo (JP) and Marc Berthier (FR). Merging their perspectives of architecture and industrial design, they collaborate on a variety of projects including space, furniture, product, innovation and research. Their approach is driven by the search for creative, thoughtful and lasting solutions.
Akmaral Khassen is a RIBA Part 2 architectural assistant currently working in the interior architecture sector in London. Outside of her full-time job, she finds joy in creating digital prints and collages that open conversation about body's rights and explore joy and softness associated with feminine forms. During Akmaral's MA Architecture course, her main thesis investigated hidden homelessness among women in the UK. Through research and volunteering in shelters, it was found that there is a lack of access to menstrual hygiene and sanitation. As a result, her thesis was a design proposal for a female-only hostel in Tower Hamlets in London. The first digital print emerged as a planning and zoning strategy diagram that took feminine forms as an inspiration.
PAN- PROJECTS is a research-driven architectural design studio based in East London, UK. The studio conceives architecture as an art of fabrication. Assembling matters to construct stories to be told through space and objects that carry meaningful messages to share.
The studio was founded in 2017 by Yuriko Yagi, EU-qualified architect (Arkitekt MAA) and member of the Danish Association of Architects and Kazumasa Takada, architect (RIBA/ARB) and educator. Yagi and Takada are also joined by Ralph Nabil Nasrallah, architectural designer and researcher, who joined the team to enforce the studio's research projects.
Studio Groove is a young collective based in East London with an intrigue in anything to do with craft. Founded by friends Andrew and Kate - both working qualified architects - Studio Groove is their outlet for creative thinking and handcraft projects.
The studio is formed by Andrew and Kate, who first worked together on their final master's thesis at Edinburgh College of Art. The two have continued to partner-up on the design and construction of everything from furniture to sheds to staircases.
Over the years they have refined their knowledge of small-scale construction and their skills within the workshop with a hands-on DIY approach to all of their projects. Andrew works at Piercy&Company. He loves to problem-solve tectonic conundrums and has a keen eye for detailing and construction. Kate works at Heatherwick Studio. She is currently focused on the ground-plane and public realm of a large urban block.
The student team from LDE UTC is comprised of Nicolos Makatsaria and Jericho Cabalan, who will be mentored by previous competition winner, Andre Kong.
Cabalan will lead UTC's Pews and Perches design. Cabalan's passion for architecture was ignited when on the way to school, he first decided to draw the buildings on his journey. This hobby evolved into his love for architecture and seeing how people have defined spaces with buildings. He looks forward to developing skills and learning from other architects during his Pews and Perches experience..
Makatsaria is a Year 12 student learning about the Built Environment and Mechatronics. He has taken part in several projects in the past that will help to inform his work for Pews and Perches. As will his great interest in how structuresare designed & made. Makatsaria looks forward to creating and printing 3d models for the bench designs that his team have designed and hand drawn.

Stories from around the docks