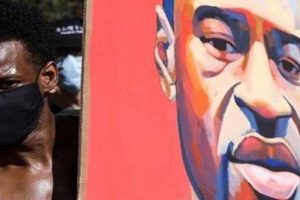 Events
846 Live
846 Live is a co-production with Theatre Royal Stratford East and the Royal Docks Team in response to the murder of George Floyd on 25 May 2020.
This brutal murder ignited a global surge of anger and pain. From the Windrush scandal to the Grenfell Tower tragedy, racist oppression is very much alive in the UK.
Exclusive: There is a limited allocation of tickets for local residents of the Royal Docks and Newham that are not available to the general public. All tickets are provided on a first come, first served basis, and unfortunately there are a restricted amount due to social distancing requirements. Full health and safety details can be found here: https://festival.org/gdif-safety/
To secure your ticket please use code: DOCKSRES
Booking a ticket secures a bench that can accommodate up to 4 people. Please specify how many people are in your group when booking.
In June 2020, Theatre Royal Stratford East worked with a group of Black and Asian writers, led by Roy Williams, to respond artistically to George Floyd's murder and the Black Lives Matter Movement, creating an audio play 846 – a collection of standalone short pieces exploring racial inequality and oppression. The stories, all unique, span a breadth of themes and emotions, from tragic to angry, to frightening and even funny. Together they form a powerful tapestry of voices.
846 Live draws on those stories, bringing together a selection of the plays to form an arresting outdoor performance.
Please note that some of the plays contain strong language that some audience members may find upsetting. Recommended age guidance 14+
For your visit
Business
London City Airport
The only London airport that's actually in London.
Community
Asta Community Hub
Asta takes a holistic approach, supporting the North Woolwich and Silvertown community from birth to old age.
New Arrival
Food & Drink
The Snack Shack
Homemade cakes and hot food are on offer at this friendly and laid-back spot on St. John's Green.