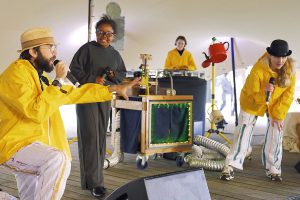 Adventures in the Deep: Interactive Show and Drawing Workshop from Patchlarks
Join Patchlarks for a high energy interactive storytelling show about a totally amazing journey into an underwater world filled with sea creatures and strange characters. It's a 45-minute show that happens at 11.30am and 2pm each day.
Between 10.30am and 3.30pm, discover the Cartographer's Workshop! A vibrant drawing workshop where you can collaborate to draw maps of imaginary islands filled with strange and wonderful creatures, characters, buildings and feasts. Work with skilled illustrators and follow simple prompts in this highly accessible workshop that uses quality, sustainable materials.
Commissioned by the Dock Local Panel as part of their Summer Events Programme, responding to the theme of sustainability. This event is part of Royal Docks Summer Splash. You will need a wristband if you would like to swim on the day.
For your visit
Art & Culture
Making Space: The People's Plan
Large-scale artwork reproducing 'The People's Plan for the Royal Docks,' a 1980s community-led project to oppose the airport.
Food & Drink
Top 1 Forever
Modern British restaurant overlooking of the water, with a wood-fired oven.
New Arrival
Food & Drink
Perky Blenders
Everything about Perky Blenders x Goodvibes is upbeat and friendly, from the name and the decor all the way to its coffee.