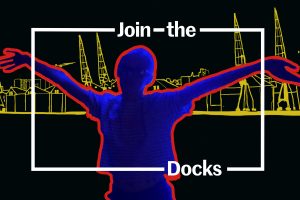 'Boat Race' Digital Self-Portrait Exhibition
An exhibition curated by Salmagundi Films for Join The Docks Festival.
Boat Race is an evolving projected installation of vibrant digital self-portraits produced using iPads by participants at Join The Docks Festival workshops.
Boat Race celebrates the rich heritage and legacy of The Royal Docks, its intrinsic relationship with The River Thames and its diverse communities.
What Floats your Boat?
Boat Race portraits produced by participants at:
Summer Garden Party – St John's Green, North Woolwich
International Play Day – Thames Barrier Park
Ferry Festival – Royal Victoria Gardens, North Woolwich
Good Hotel - Royal Victoria Dock
For your visit
Outdoors
Thames Barrier Park
This dramatically-landscaped park is the best place to watch the Thames Barrier in action.
Food & Drink
Top 1 Forever
Modern British restaurant overlooking of the water, with a wood-fired oven.
Food & Drink
Starbucks Coffee
Just outside Thames Barrier Park, the outdoor seating makes this Starbucks a favourite spot for dog walkers.