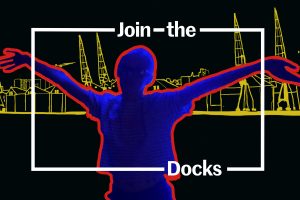 'Boat Race' Digital Self-Portrait Exhibition
An exhibition curated by Salmagundi Films for Join The Docks Festival.
Boat Race is an evolving projected installation of vibrant digital self-portraits produced using iPads by participants at Join The Docks Festival workshops.
Boat Race celebrates the rich heritage and legacy of The Royal Docks, its intrinsic relationship with The River Thames and its diverse communities.
What Floats your Boat?
Boat Race portraits produced by participants at:
Summer Garden Party – St John's Green, North Woolwich
International Play Day – Thames Barrier Park
Ferry Festival – Royal Victoria Gardens, North Woolwich
Good Hotel - Royal Victoria Dock
For your visit
Food & Drink
Sainsbury's Local
Open every day 7am til 11pm.
Food & Drink
Galyons Bar & Kitchen
This 19th-century dockside inn has recently been reborn as a waterside gastropub.
Community
University of East London
UEL's docklands campus is known for its state-of-the-art sports facilities and formiddable reputation.