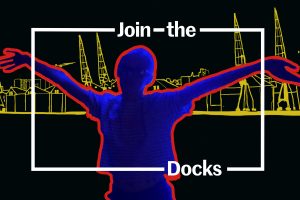 'Boat Race' Digital Self-Portrait Exhibition
An exhibition curated by Salmagundi Films for Join The Docks Festival.
Boat Race is an evolving projected installation of vibrant digital self-portraits produced using iPads by participants at Join The Docks Festival workshops.
Boat Race celebrates the rich heritage and legacy of The Royal Docks, its intrinsic relationship with The River Thames and its diverse communities.
What Floats your Boat?
Boat Race portraits produced by participants at:
Summer Garden Party – St John's Green, North Woolwich
International Play Day – Thames Barrier Park
Ferry Festival – Royal Victoria Gardens, North Woolwich
Good Hotel - Royal Victoria Dock
For your visit
Outdoors
Lyle Park
It's easy to miss Lyle Park's narrow entrance, but its triangle of green with a river view is worth exploring.
New Arrival
Business
Expressway London
Expressway is a community of almost 200 thriving businesses facing onto Royal Victoria Dock. Recognised as a place where creative enterprises, SMEs and start ups can flourish, no two of their businesses are alike but all are like minded.
Food & Drink
Cafe Bonane
Down-to-earth cafe serving fried breakfasts and hearty lunches on the dockside.