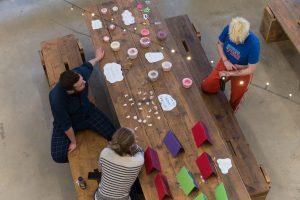 Art & Culture
Bow Skills Peer Crit: Digital Media
Calling all digital artists: come and have work critiqued by your peers and by guest artist Melanie Manchot. Bow Skills is a programme founded on the principle that every artist needs a chance to grow their practice, whether they're fresh out of art school, self-taught, or decades into a career. This Peer Crit: Digital Media night is one of three themed evenings that make space for sharing and conversation.
For your visit
Food & Drink
Lockside Kitchen
Wharfside community cafe offering a regularly-changing menu of healthy and affordable food.
Community
University of East London
UEL's docklands campus is known for its state-of-the-art sports facilities and formiddable reputation.
Activities
NASSA Sport
Community basketball club for 8 to 18 year-olds from Newham, in partnership with UEL.