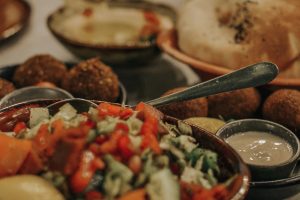 Events
Celebrate Britannia
On March 30, Britannia Village Hall are celebrating Britain — in all its cultural diversity. You're invited to bring a dish to share, and wear traditional dress if you wish. As well as a community meal, there will be flag face-painting, games, and world music. It promises to be a relaxing afternoon to enjoy food with friends, meet the neighbours, and learn about the cultural heritage of West Silvertown's residents.
For your visit
Community
Britannia Village Hall
A hall-for-hire that holds 200; home to multi-faith activities, exercise classes, English lessons, and more.
Food & Drink
Sainsbury's Local
Open every day 7am til 11pm.
New Arrival
Food & Drink
Triple Two Coffee
Located inside the Royal Wharf Clubhouse, Triple Two Coffee sits within the focal point for daily health and fitness classes, swimming and neighbourhood events.
Similar events