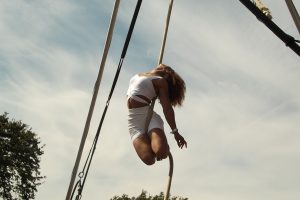 Art & Culture
Circus Flavours
What's better than watching an inspiring show from top circus artists? Having the opportunity to learn their skills afterwards.
Leading contemporary circus company Upswing's diverse and highly skilled performers will be demonstrating their incredible blend of acrobatics and physical theatre over two days in the Royal Docks. Then, after each show the artists will lead open circus workshops, where you can try out what you've just seen.
With its unique combination of risk-taking, trust and collaboration, circus is a fun and exciting activity for all ages. Circus Flavours is just what you need to get a taste of the art form. Suitable for ages 5+.
For anyone who's dreamt of joining the circus!
31st of July + 1st August
Performances*:
12pm and 3pm
Workshops*:
12.45pm and 3.45pm


---
All events and activities will adhere to the Government's COVID-19 social distancing guidelines. Regular updates are also provided to organisers to ensure all events and activities are adhering to the most recent Government Coronavirus guidance and restrictions
Children taking part in Circus Flavours Workshops must be accompanied by a responsible adult.
*each performance lasts 30 minutes
*workshops are 45 minutes, for a maximum of 15 people
You can book for the workshops now by emailing: RoyalDocksEvents@london.gov.uk
If you're attending Kids Summer Splash this weekend, why not watch a performance or book to join a workshop?
Upswing is part of the Kids Summer Splash opening weekend. You don't need to book to watch a performance, but space is limited.
If you want your child to take part in the workshop, please book a workshop in advance by emailing: RoyalDocksEvents@london.gov.uk
Please include the date and time for the workshop you'd like your child to join.
Please ensure to cancel if you can no longer attend the workshop, as space is limited to a maximum of 15 children / young people per workshop.

For your visit
Food & Drink
Airline Cafe
No one complains about all-day breakfast for under a fiver. Right next to the ExCeL, this cafe-diner opens early to late.
Food & Drink
Starbucks Coffee
Just off the walkway linking Custom House DLR with the ExCeL, this branch is a favourite quiet spot for students.
Art & Culture
Making Space: The People's Plan
Large-scale artwork reproducing 'The People's Plan for the Royal Docks,' a 1980s community-led project to oppose the airport.