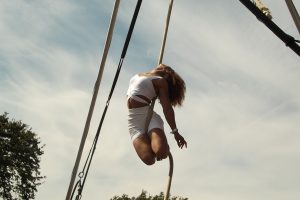 Art & Culture
Circus Flavours
Circus Flavours is a platform for Upswing's associate artists to present themselves to a live audience, their way. Earlier this year Upswing commissioned their associates to develop news acts for Circus Flavours – offering an opportunity to experiment, progress their skills and ease back into live performance, after the break of the pandemic.
Their Circus Flavours film is a celebration of these artists and gives a glimpse into the drive and dedication that leads them to create their incredible work.

---
What's better than watching an inspiring show from top circus artists? Having the opportunity to learn their skills afterwards.
Leading contemporary circus company Upswing's diverse and highly skilled performers will be demonstrating their incredible blend of acrobatics and physical theatre over two days in the Royal Docks. Then, after each show the artists will lead open circus workshops, where you can try out what you've just seen.
With its unique combination of risk-taking, trust and collaboration, circus is a fun and exciting activity for all ages. Circus Flavours is just what you need to get a taste of the art form. Suitable for ages 5+.

For your visit
Food & Drink
Starbucks Coffee
Just off the walkway linking Custom House DLR with the ExCeL, this branch is a favourite quiet spot for students.
Food & Drink
The Oiler Bar
Bars on boats are always a good idea, especially when they have a cocktail bar downstairs.
Places To Stay
Premier Inn
Perfectly positioned for access to the ExCeL.