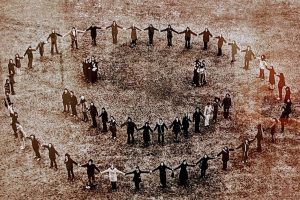 At the Docks
LFA2023: Common Ground: Cultural Commons and The City
This symposium will frame the commons as the sphere of community, asking both speakers and participants:
'How can the commons provide new ways to address the precariousness of working & living with/in urban communities?'
This symposium will engage academics, activists and community projects to investigate the contribution that artistic and design activities can make to this reframing of a sphere of commons in partnership with the public - the state.
Cultural production in the commons through art and design has the potential to act as a driver in addressing a range of pressing societal concerns including: civic apathy; the conversion of active citizenship into passive consumerism; extreme individualism; extractive production and the appropriation of cultural artefacts as capital.
Within these relationships, the process of producing cultural common goods is of particular importance, as it is through this process that communities build trust and gain agency within a commons network, which in turn contributes to the further establishment of the 'commons sphere'. We will explore commons as an idea, a system, forms of relational practice and a political project.

Part of the London Festival of Architecture 2023.

For your visit
Activities
London Royal Docks Open Water Swimming
Swim outside year round against the historic backdrop of Royal Victoria Dock. Safety tagging included.
Food & Drink
Starbucks Coffee
Just off the walkway linking Custom House DLR with the ExCeL, this branch is a favourite quiet spot for students.
Food & Drink
Top 1 Forever
Modern British restaurant overlooking of the water, with a wood-fired oven.
Similar events