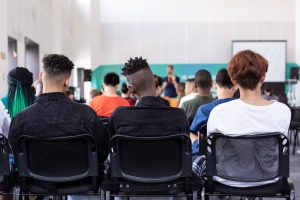 Events
Cool School
Introducing the new night school and social club for millennials where you can make friends and learn new stuff...Fed up and disappointed with networking events? Check out this video: https://vimeo.com/370063375
These days it's virtually impossible to meet people outside of work so here's a new way to make friends, learn new things, and have meaningful and enlightening conversations in the comfort of a classroom environment with a cool twist...
Whether you want to learn a new creative skill, discover ways to make a side income, discuss new media, current affairs, or meet a potential BFF, Cool School is the place to be...
In each Cool School session you'll get to:
Take part in games and activities
Connect with like minded people on a weekly basis
Learn about emerging trends in tech, finance, social media, work and entertainment
Watch amazing documentary and film for stimulating conversation and debate
Get access to amazing resources to improve your life, personal brand and income
Get exclusive club member benefits including invites to flagship events and excursions (optional)
Sessions are held in 6 week blocks and you'll save loads when you book all 6 in advance!
Held every Thursday at a carefully picked London location; this is going to be the new spot for curious minds to connect, have fun and learn new stuff. Get your tickets now!