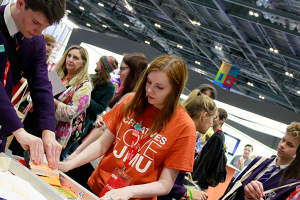 Conferences
Create Your Future 2019
Create Your Future is UCAS' flagship event for people interested in pursuing a creative career. Have a truly immersive experience as course leaders, current students, and industry specialists answer questions and give advice, and performances bring your future to life. If you're interested in a creative future, this event will help you decide on your next steps.
For your visit
Food & Drink
Starbucks Coffee
Just off the walkway linking Custom House DLR with the ExCeL, this branch is a favourite quiet spot for students.
Places To Stay
Aloft London ExCeL
Four-star Marriott hotel with a dockside restaurant terrace, wood-lined interiors, and a striking skyline.
Food & Drink
Airline Cafe
No one complains about all-day breakfast for under a fiver. Right next to the ExCeL, this cafe-diner opens early to late.
Similar events