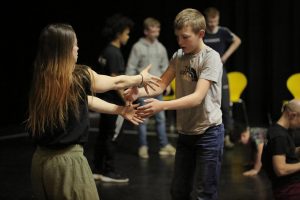 Dance Project by Luca Silvestrini's Protein
Award-winning contemporary dance theatre company Protein, founded by Luca Silvestrini will be working with a number of 11 – 16-year-old pupils from New Directions School to create a new dance film.
Protein has been creating distinctive performances that marry choreography, text, humour and music together to delight, entertain and provoke audiences since 1998. Led by artistic director Luca Silvestrini who is known for his unique style of dance theatre which mixes the everyday in revealing and subversive ways, the company will be working with New Directions School to create a dance film that will wow.
The final performance will be made available to the public upon completion but due to current restrictions this project is currently on hold.
Please check back here, follow our Facebook, Twitter and Instagram, or register for our newsletter to find out when and where to see the screening.
For your visit
Outdoors
Thames Barrier Park
This dramatically-landscaped park is the best place to watch the Thames Barrier in action.
Art & Culture
RAW Labs
Sample an impressive range of art events and workshops, or just the great coffee, at this Bow Arts caff.
New Arrival
Food & Drink
Little Hudson Cafe
Little Hudson Cafe is an independent cafe open in Royal Wharf serving homemade brunch.