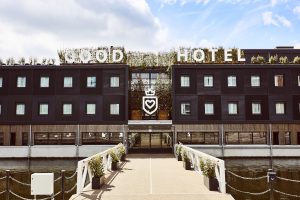 Events
December at the GOOD Hotel
GOOD Screenings
12 & 19 December | 16.30, The Blue Room, FREE
Good screenings return! Join the Good Team for a cosy movie night to get in the festive mood. On the 12th December we'll be screening 'The Grinch' (2018 from Illuminations Studios) and on the 19th December we'll show another Christmas classic 'Home Alone'. Please book ahead by emailing anacarolina.moutella@goodhotel.co
Bollywood Dancing (Dance & Fitness)
7 & 14 December | 18.30-20.00, Green Room, £8 walk-in or 5 classes for £30
Learn the art of Indian dance by embodying the rhythmic music of Bollywood. A fun and expressive class that teaches technique and helps improve your fitness. Sessions are run by local Kathak dancer and choreographer
Priya Gupta. Book ahead by reaching out via Instagram @priyagupta_91 or call +447482800856
Zumba (Dance & Fitness)
8 December | 19.00-20.00, Green Room, £6 walk-in or 4 classes for £20
Join the ultimate dance fitness party with local Licensed Zumba Instructor Swati Kaushal. The Zumba work-out combines Latin and international music with dance moves. Zumba routines incorporate interval training — alternating fast and slow rhythms — to help improve overall fitness. Book ahead by reaching out via Instagram @zin_swati_kaushal or call +44466551014
For your visit
Community
Asta Community Hub
Asta takes a holistic approach, supporting the North Woolwich and Silvertown community from birth to old age.
Activities
London Royal Docks Open Water Swimming
Swim outside year round against the historic backdrop of Royal Victoria Dock. Safety tagging included.
Places To Stay
Connaught House Hotel
This Grade II-listed building provides comfortable rooms and classic pub dining.