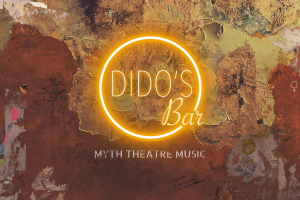 Events
Dido's Bar
Let us tempt you to the edge of town for a night filled with theatre, music and myth at Dido's Bar.
Set in a space teetering on the edge of belonging, Dido's Bar is a new immersive theatre production premiering this autumn. Expect an evening of sumptuous music and electrifying storytelling as owners Juno and Venus invite you to hear their latest musical discoveries alongside regular favourites.
Dido's Bar is an epic retelling of Virgil's Aeneid, a story of migration, love and assimilation, Retold for the 21st century through the eyes of refugees today, the work is inspired by Director Josephine's encounter with Kurdish Iranian refugee and now Finnish resident Composer, Marouf Majidi. Marouf's personal and musical contribution, alongside Playwright Hattie Naylor, Josephine Burton, the cast and the Dido's Bar House Band, is the heartbeat of our tale.

Address:
Unit F - The Factory, E16 2HB
Nearest Transport: London City Airport, Pontoon Dock (DLR)
Creatives:

Conceived and Directed by Josephine Burton

Written by Hattie Naylor

Composed by Marouf Majidi with additional composition by Riku Kantola

Set and Costume Design by Bryan Woltjen

Music and Sound arranged, designed, and directed by Riku Kantola

Movement Direction by Ayse Tashkiran

Lighting Design by Peter Small

Produced by Charlie Bunker
Cast:

Gemma Barnett as Matina

Priscille Grace as Venus

Tuukka Leppänen as Turnus

Lola May as Dido

Lahcen Razzougui as Aeneas

Georgina White as Juno
---
Dido's Bar is produced by Dash Arts with imPOSSIBLE Producing.
Dido's Bar is co-produced in the UK with the Royal Docks Team, OCM (Oxford Contemporary Music), and Journeys Festival International and co-commissioned by OCM, with additional support from Arts Council England, Backstage Trust, The Foyle Foundation, Projekt, Cockayne – Grants for the Arts, The London Community Foundation, Genesis Foundation, Finnish Institute in the UK and Ireland, The Marchus Trust, TINFO – Theatre Info Finland, Austin and Hope Pilkington, Royal Victoria Hall Foundation, The Leche Trust and individual donors.
For your visit
Food & Drink
Yi-Ban
This Chinese restaurant occupies a floor of the London Regatta Centre overlooking the Docks, meaning diners can plane-watch over a plate of dim sum.
Food & Drink
Sainsbury's Local
Open every day 7am til 11pm.
Places To Stay
Sunborn London
Luxury accommodation on board a superyacht minutes from ExCeL London.