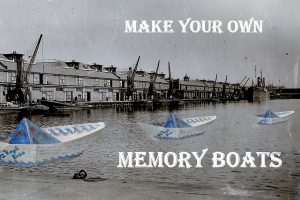 Dock Memory Boats
Join Eastside Community Heritage to make your very own memory boat and decorate it with flags, stickers and your first memory of the area and the docks.
The Royal Docks has a rich history – many people worked in the docks and also lived in the area. We will be using old photographs of the area and local stories to inspire your design and bring back memories of the area, listen to the oral histories and be inspired by the stories of those that lived and worked in the docks, and have fun designing and making your origami boat.
Eastside Community Heritage (ECH) has worked with over 10,000 individuals, 600 organisations, produced 80 exhibitions, published 16 books, and worked on hundreds of community-based projects. Much of the organisation's work relies on intergenerational and intercultural practice. The Hidden-Histories Archive established in 1999 and contains irreplaceable oral history recordings of approximately 4000. For further information about Eastside visit www.hidden-histories.org
Commissioned by the Dock Local Panel as part of their Summer Events Programme, responding to the theme of sustainability. This event is part of Royal Docks Summer Splash. You will need a wristband if you would like to swim on the day.
For your visit
Art & Culture
Making Space: Go the Distance
Installation artwork by Jessie Brennan, created with Peacock Gym by collecting images from the archive of this renowned community boxing hub.
Food & Drink
Airline Cafe
No one complains about all-day breakfast for under a fiver. Right next to the ExCeL, this cafe-diner opens early to late.
Food & Drink
The Oiler Bar
Bars on boats are always a good idea, especially when they have a cocktail bar downstairs.