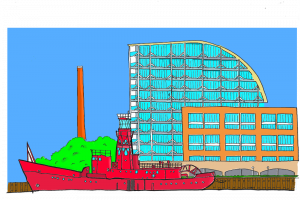 Doodling The Docks
Discover the delights of the Royal Docks in this colourful, interactive art exhibition by local illustrator, Matt Ponting. Set inside one of RAD's brand new spaces overlooking the waterfront, there are more than 30 illustrations on display, accompanied by fun facts to keep learning about the history and future of the Royal Docks. This Exhibition will run from the 31 August – 29 September and is open daily from 12–7pm.

Plus, pick up a special walking guide, running from the Kids Summer Splash in the west through to Royal Albert Wharf in the east. There's some space inside the guide to draw your own dock doodles, too! Share one on social media with #DoodlingTheDocks and you could win a signed original artwork from the exhibition.


For your visit
Food & Drink
Heroica Lounge
It's a bus, it's an Italian restaurant; you decide whether to order pizza or pretend to drive.
New Arrival
Food & Drink
Husk Brewing
There's a new brewer in town, right where the first IPAs were once shipped from. Watch out for live music nights in the bar.
Food & Drink
Starbucks Coffee
Just outside Thames Barrier Park, the outdoor seating makes this Starbucks a favourite spot for dog walkers.