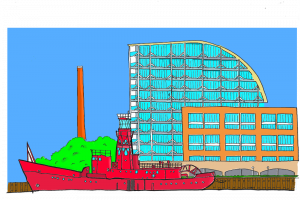 Join the Docks
Doodling The Docks
Discover the delights of the Royal Docks in this colourful, interactive art exhibition by local illustrator, Matt Ponting. Set inside one of RAD's brand new spaces overlooking the waterfront, there are more than 30 illustrations on display, accompanied by fun facts to keep learning about the history and future of the Royal Docks. This Exhibition will run from the 31 Aug–29 September and is open daily from 12–7pm.

Plus, pick up a special walking guide, running from the Kids Summer Splash in the west through to Royal Albert Wharf in the east. There's some space inside the guide to draw your own dock doodles, too! Share one on social media with #DoodlingTheDocks and you could win a signed original artwork from the exhibition.

Want to get even more creative? Come along to one of our #DoodlingTheDocks art workshops with Matt where you can create your own 3D collage. These will be taking place on Saturday 31 August and Saturday 21 September from 12–4pm at RAD London.

For your visit
New Arrival
Art & Culture
The Silver Building
Once the offices of Carlsberg-Tetley, this concrete block now offers workspaces to dozens of creative businesses. Look out for their regular events and exhibitions.
Places To Stay
Aloft London ExCeL
Four-star Marriott hotel with a dockside restaurant terrace, wood-lined interiors, and a striking skyline.
Activities
NASSA Sport
Community basketball club for 8 to 18 year-olds from Newham, in partnership with UEL.