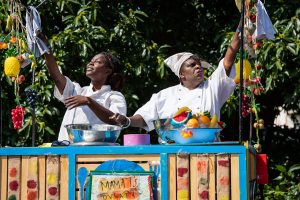 Art & Culture
Ensemble Festival
On Saturday 24 July Ensemble Festival will present an explosive mix of art and performance bringing the very best of UK artists to heart of the Docklands. This is the second Ensemble Festival developed by producers Certain Blacks; an arts development organisation based locally in Custom House in the Royal Docks.
What will you encounter when Ensemble Festival brings top UK outdoor performers to the Royal Docks? The free event sees a blend of circus, dance, theatre and art – and there's so much to explore.
Using feats of strength and circus physicality, Strong Enough tells stories of ordinary people finding power at times when we might wobble or struggle. And don't miss Do What yah Mama told yah!, an immersive comedy show featuring plate-spinning, food-juggling and fire-blazing.
Look out for Jason Singh's Hidden Music of Trees, an augmented reality audio-visual installation that enables you to listen to music Singh generated using the movement of trees, and see it on your phone. There will also be digital installations such as Emergency Exit Arts Recovery Poem, an inspiring light poem created by artists Robert Montgomery and Deanna Rodger in response to the pandemic.
Blurring the lines of circus performance and dance is Joli Vyann, whose work combines acrobatic tricks and fluid choreography for the technical, exciting and emotive show, Don't Drink and Dance. Equally unmissable is Simple Cypher's breath-taking display of Hip Hop and circus.
Produced by Custom House company Certain Blacks, Ensemble Festival forms part of Ship Building – a body of creative work being developed in response to the current UK social climate and reflecting the heritage of the London docks. Taking its name from Elvis Costello's anti-war song, Ship Building responds to Covid-19, Brexit and Black Lives Matter – which have all been compared to war.
---
All events and activities will adhere to the Government's COVID-19 social distancing guidelines. Regular updates are also provided to organisers to ensure all events and activities are adhering to the most recent Government Coronavirus guidance and restrictions
For your visit
Art & Culture
Making Space: Go the Distance
Installation artwork by Jessie Brennan, created with Peacock Gym by collecting images from the archive of this renowned community boxing hub.
Places To Stay
Good Hotel London
This floating hotel is also a not-for profit organisation that invests in the local community.
Community
Asta Community Hub
Asta takes a holistic approach, supporting the North Woolwich and Silvertown community from birth to old age.