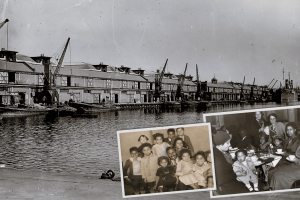 At the Docks
LFA2023: Exploring Dockland stories
Discover diverse stories as you participate on a guided walk, around the Royal Docks with Eastside Community Heritage, as part of the London Festival of Architecture's In common, event.
Starting at City Hall, arrive from 4.30pm to embark on a guided walking trail at 5pm, which takes in the Royal Victoria Docks, as hidden-histories are and shared. Find out about City Hall's location's name bearer, Kamal Chunchie, whose innovation transformed the lives of dock workers and their families during the 1920's, as well as the different communities who lived and worked in the London Docklands. Sound clips from those who were there, bring these stories to life, bearing witness to the secrets of the docklands.

Part of the London Festival of Architecture 2023.

For your visit
Attractions
City Hall
One of the world's most sustainable buildings is also a striking landmark.
New Arrival
Business
Expressway London
Expressway is a community of almost 200 thriving businesses facing onto Royal Victoria Dock. Recognised as a place where creative enterprises, SMEs and start ups can flourish, no two of their businesses are alike but all are like minded.
Art & Culture
Making Space: The People's Plan
Large-scale artwork reproducing 'The People's Plan for the Royal Docks,' a 1980s community-led project to oppose the airport.
Similar events