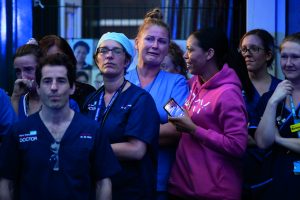 Royal Docks Originals
Exposure
"What makes Newham, Newham?" "What was the most challenging moment during the first wave of Covid-19?" "What was the most beautiful moment?"
In autumn last year, artist "the vacuum cleaner" invited 47 Newham health workers into his studio and filmed conversations with them about their experiences of the early period of the pandemic.
The resulting film explores the challenges they faced, the compromises forced on them, and the reality of how they coped (and sometimes didn't) while caring for patients and each other. Their stories reveal their moral struggles, resulting in mental health challenges and frustrations, but also of their resilience and their hopes for the Newham community they serve.
Experience these intimate accounts at this poignant evening of film, storytelling and music.
Exposure received funding support from Arts Council England, Newham Council, Paul Hamlyn Foundation, The Royal Docks Team and Wellcome Collection.


Content warning: death from Covid-19, mental health, racism, pregnancy loss.
Suitable for ages 14+


For your visit
Food & Drink
Airline Cafe
No one complains about all-day breakfast for under a fiver. Right next to the ExCeL, this cafe-diner opens early to late.
Food & Drink
Tereza Joanne
Tereza Joanne's main function room holds 300 buffet-style; find this barge permanently moored on Albert Island.
Food & Drink
The Girl of Sandwich
Primarily a takeaway, this sandwich shop is popular with locals and workers alike.
Similar events