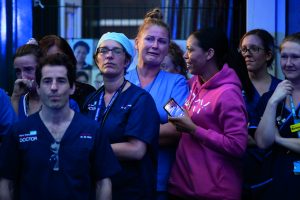 Exposure
"What makes Newham, Newham?" "What was the most challenging moment during the first wave of Covid-19?" "What was the most beautiful moment?"
In autumn last year, artist "the vacuum cleaner" invited 47 Newham health workers into his studio and filmed conversations with them about their experiences of the early period of the pandemic.
The resulting film explores the challenges they faced, the compromises forced on them, and the reality of how they coped (and sometimes didn't) while caring for patients and each other. Their stories reveal their moral struggles, resulting in mental health challenges and frustrations, but also of their resilience and their hopes for the Newham community they serve.
Experience these intimate accounts at this poignant evening of film, storytelling and music.
Exposure received funding support from Arts Council England, Newham Council, Paul Hamlyn Foundation, The Royal Docks Team and Wellcome Collection.


Content warning: death from Covid-19, mental health, racism, pregnancy loss.
Suitable for ages 14+


For your visit
Art & Culture
Making Space: Custom House Is Our House
Installation art comprising a life-sized group portrait of individuals who live and work on Freemasons Road. Part of the Making Space series by Jessie Brennan.
Community
Asta Community Hub
Asta takes a holistic approach, supporting the North Woolwich and Silvertown community from birth to old age.
New Arrival
Food & Drink
The Windjammer
The Windjammer is a stunning pub with a big focus on fresh, seasonal food, a community atmosphere and exceptional service.