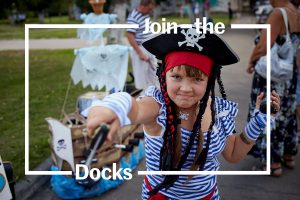 Ferry Tales
Take a dip into a world of watery tales and crafts with Ferry Tales creative workshops for families. Dock for a while and listen to sugar-sweet and sometimes murky tales of the water's edge, mermaids, and river treasures.

We'll also be making dressing-up accessories and boats and planes for the great race at the Ferry Festival on 10th August. For more information contact CN.BecktonRoyalDocks@newham.gov.uk.
Workshop timetable
Wed 31 July, 11am–3pm
St Johns Green, Albert Road, E16 2JH
Thu 1 August, 4pm–6pm
North Woolwich Library, Pier Parade, E16 2LJ N
Sat 3 August, 1pm–4pm
Britannia Village Green, Hanameel Street, E16 1UA
Wed 7 Aug, 11am–3pm
Thames Barrier Park, North Woolwich Road, E16 2HP
Fri 9 August, 12pm–4pm
Asta Community Hub
Sat 10 August, 2pm–6pm
Royal Victoria Gardens, Pier Road (off Albert Road), E16 2JJ

For your visit
Art & Culture
Millennium Mills
Derelict early 20th century flour mill turned screen icon; this Royal Docks landmark is due to be redeveloped.
Art & Culture
Making Space: The People's Plan
Large-scale artwork reproducing 'The People's Plan for the Royal Docks,' a 1980s community-led project to oppose the airport. Part 2 of artist Jessie Brennan's 4-part work.
New Arrival
Food & Drink
The Royal Standard
The Royal Standard has re-opened under new management as a family-run pub that welcomes everybody, including children until 6pm.