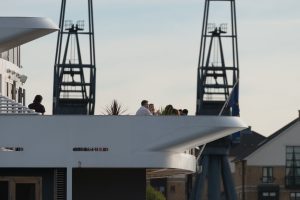 Art & Culture
Futuristic Polar Bears
Futuristic Polar Bears are a renowned DJ/musician duo who straddle the genres of house, EDM, and progressive.
You can catch them performing at the Royal Docks' luxury floating hotel, the Sunborn London.
Formed in 2010, Rhys Buckley and Fran Cosgrave have released many singles, and have been signed to labels Spinnin', Revealed Smash The House & Protocol recordings.
For your visit
Food & Drink
Cafe Bonane
Down-to-earth cafe serving fried breakfasts and hearty lunches on the dockside.
Activities
The Quad Club & Spa
This spa, swimming pool and gym in the Crown Plaza Hotel offers calming treatments and classes.
Places To Stay
Good Hotel London
This floating hotel is also a not-for profit organisation that invests in the local community.