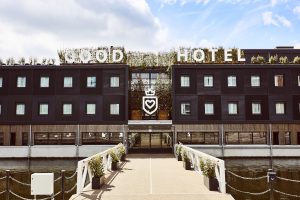 Events
GOOD Hotel Events this May
Reimagine Newham
5 to 20 May | 11.00-17.00, The Living Room
(and other local locations) FREE
This Augmented Reality exhibition explores overdue changes, alternative futures, speculative designs and innovative ideas proposed for the borough of Newham and Royal Docks and its local communities by 12 artists and Newham's Residents.
Sofar Sounds
15 & 20 May | Top Secret, £20-24 pp
You'll see 2 or 3 short sets from incredible performers from all musical genres, and sometimes even spoken word, comedy, or dance. Each show's line-up is curated by our artist booking team to be diverse and varied. Grab your ticket and get ready to discover your new favourite artist! Sunday 15th May, 3:30pm, £20 + Friday 20th May, 7:30pm, £24. Full details released 36-hours before. Book tickets at www.sofarsounds.com.
House of Voga
29 May | 11.00-12.00, The Rooftop (see prices online)
As featured in Vogue Magazine, Voga unites highly stylized and expressive yoga with the slick alignment and posing of vogueinspired dance. The Voga Method: a power-posing series of workouts inspired by Yoga, Vogue, Fitness and Fashion. To book: houseofvoga.com
Arts & Crafts
14 May | 10.00-11.30, The Globe FREE
Get creative and join the Good team for a morning of crafting! We will be using recycled materials to build your own bird feeder. Tweet tweet! RSVP: anacarolina.moutella@goodhotel.co
IN LONDON
Open Water Swimming
Various days | Various timings, Royal Victoria Dock, £8
Research has shown that cold water swimming benefits can include increased metabolism, improved circulation, enhanced mood, better sleep and boosted immune system. Just a stone's throw from the hotel, why not book yourself a dip in the historic Royal Victoria Dock? Water is tested fortnightly and consistently marked as excellent. £8 per swim with unlimited time in the water during opening hours. For more information, head to: loveopenwater.co.uk/swimming-london-royaldocks
Victoria Dock parkrun
Saturdays | 9.00, Victoria Dock, FREE (book ahead)
Two minutes from the hotel you'll find a free, fun, and friendly weekly 5k community event. Walk, jog, run, volunteer or spectate – it's up to you! The event takes place at Victoria Dock, Siemens Brothers Way, London, E16 1GB. Nothing - it's free! but please register before you first come along: www.parkrun.org.uk/victoriadock

For your visit
Activities
Emirates Air Line
This cable car flying between the Royal Docks and North Greenwich offers panoramic views of the river.
Food & Drink
Top 1 Forever
Modern British restaurant overlooking of the water, with a wood-fired oven.
Attractions
City Hall
One of the world's most sustainable buildings is also a striking landmark.