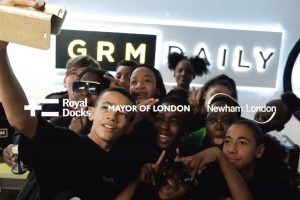 Art & Culture
Grime Pays run by Ruff Sqwad Arts Foundation
We are looking for ten 11 – 16 year olds from the Royal Docks to take part in Grime Pays run by Ruff Sqwad Arts Foundation (supported by the Royal Docks Team) - an immersive music industry programme (free) every Saturday from 31 July to 4 September.
Dates: Saturdays, 31 July – 4 September
Ages: 11 – 16 year olds
Where: At Spotlight, a professional recording studio

Grime Pays is a music programme which provides advanced talent development elements including beats, lyrics, track production, performance, software and technical skills, team work, critiquing and career development. It will give the young people involved access to industry-level equipment to be able to produce, record and rehearse quality music over the course of the programme. In the session, young people explore all facets of the music industry to upskill them as music industry professionals / artists. It takes place in a professional recording Spotlight.
Grime Pays is run by Ruff Sqwad Arts Foundation, founded by Grime Legends Prince Owusu-Agyekum (aka Rapid) and Ebenezer Ayerh (aka Slix) to help young people reach their full potential in creative careers and life.
Opportunity now closed
For your visit
Art & Culture
Lightship 93
A photo shoot location like no other: a meticulously-preserved lighthouse vessel.
Activities
Royal Docks CrossFit
Gym dedicated to CrossFit, the gruelling strength and conditioning phenomenon that athletes swear by.
Community
University of East London
UEL's docklands campus is known for its state-of-the-art sports facilities and formiddable reputation.