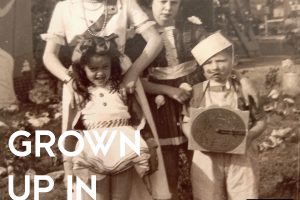 Grown up in the Docks
From Saturdays spent in the engine room on the Woolwich Ferry to heavy metal at the Bridge House and first jobs at the Tate & Lyle factory, the Museum of Youth Culture invited the public to share their everyday memories of growing up in the Docks.
Grown up in the Docks celebrates the stories collected, exploring the Docks' recent social history through memories of youth. This outdoor exhibition at the Thames Barrier Park Cafe brings together photographs and oral histories collected in response to the question; what is your strongest memory of being young?
Collected during a national lockdown in the midst of a pandemic, conversations were held on Zoom coffee mornings, during family zine making workshops and over long phone calls. The stories collected document the highs and lows of being a teenager, and what unites us across generations.

For your visit
Outdoors
Thames Barrier Park
This dramatically-landscaped park is the best place to watch the Thames Barrier in action.
New Arrival
Food & Drink
The Windjammer
The Windjammer is a stunning pub with a big focus on fresh, seasonal food, a community atmosphere and exceptional service.
Community
Royal Wharf Community Dock
From adult ballet classes to dance and drama classes for kids, this new centre in the heart of Royal Wharf has begun with a bang.