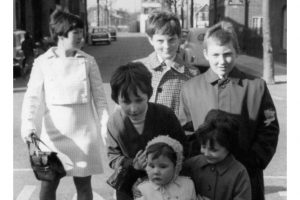 Join the Docks
Grown up in the Royal Docks by the Museum of Youth Culture
What was it like growing up in the Royal Docks? From first jobs, first loves, family holidays, youth club evenings and Saturday nights out, this project is all about growing up in the Docks and organisers need YOUR help to complete the project.
The Museum of Youth Culture presents Grown up in the Docks, a new community archiving project which aims to document 100 years of being young in the Royal Docks. It will tell the story of growing up in the area using memories, personal photographs, ephemera and oral histories from people who grew up or have memories of the Royal Docks over the years.
Grown up in the Docks will shine a light on the often untold history of the youth experience and will preserve an important part of the local heritage.
The Museum of Youth Culture is hosting a number of online workshops throughout November:
18 November: Online Social with Heritage Newham.
Join Museum of Youth Culture and Heritage Newham on Wednesday November 18th as they discuss the Grown up in the Docks project and how you can get involved. At the end of the talk there will be an opportunity for you to share your memories and photographs from growing up.
The event will be streamed live on the Museum of Youth Culture Facebook page. If you would like share your memories or photographs, please send an e-mail to lisa@youthclubarchive.com
26 November: DIY Archiving with RAW Labs
In this workshop the Museum of Youth Culture will delve into grassroots DIY Archiving explaining everything from archiving your creative practice through to creating family histories and using archives as the basis for your work. The Museum of Youth Culture's subculture collections will be used as a starting point, and the workshop will explain how you can get involved in Grown up in the Docks.

Thursday 26 November, 7-8pm: Register your free place on Eventbrite.
We are encouraging you to please get involved and become part of the story yourselves! Do you have memories, photographs or stories from growing up in the Royal Docks? Submit your stories to the Museum of Youth Culture or find out more about the project by emailing lisa@youthclubarchive.com.
All memories will be gathered together to create an immersive exhibition which will be available to explore this December at an outdoor location (venue TBC) in the Royal Docks.
More information on the exhibition dates and venue will be released soon so please check back here, follow our Facebook, Twitter and Instagram, or register for our newsletter to find out more.
For your visit
Community
Britannia Village Hall
A hall-for-hire that holds 200; home to multi-faith activities, exercise classes, English lessons, and more.
Business
ExCeL London
The international convention centre has hosted everything from Comic Con to the Olympics.
Places To Stay
Sunborn London
Luxury accommodation on board a superyacht minutes from ExCeL London.