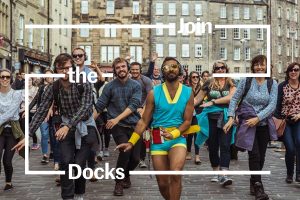 Join the Docks
Guru Dudu Silent Disco Tours
The Guru Dudu team presents Silent Disco Walking Tours, fresh from a sell-out season at Edinburgh Fringe. Come on a sparkling dance-walk adventure through the Royal Docks, with headphones provided. Listen to the hilarious commentary from your tour guide and enjoy spontaneous flash-mobs of dance and singing to uplifting tunes from the 70s, 80s, 90s and 00s.
Warning: your cheeks may hurt from smiling.

This event is free, but the organisers ask that you book your place as spaces are limited. Free tickets are available for booking on the following dates:
Sat 7 September
1.30–2.30pm and 3–4pm
Sat 14 September
1.30–2.30pm and 3–4pm
Sat 21 September
1.30–2.30pm and 3–4pm
For your visit
Places To Stay
Good Hotel London
This floating hotel is also a not-for profit organisation that invests in the local community.
Food & Drink
The Living Room
The Good Hotel's floating restaurant dishes up locally-sourced comfort food with a Spanish twist.
Food & Drink
Starbucks Coffee
Just off the walkway linking Custom House DLR with the ExCeL, this branch is a favourite quiet spot for students.