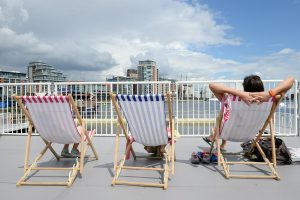 Royal Docks Summer Programme
Kids Summer Splash 2022
Dive into family fun this summer as Kids Summer Splash brings you delightful dock swimming, super sandpits, tasty food, cooling drinks, and more.
Grab your towels and take a swim in the lido which also includes a shallow end for younger children to make a splash and have a paddle.
Don't forget to bring a bucket and spade so you can get creative in one of the sandpits, or simply relax on a deckchair in one of the family chill-out zones.
If all that fun has given you an appetite, don't fear, the snack shack will be open for you to grab a refreshing drink or a bite to each.
Kids Summer Splash is free and open to swimmers and sandcastle-builders of any age so don't miss out on all the fun.
For your visit
Art & Culture
RAW Labs
Sample an impressive range of art events and workshops, or just the great coffee, at this Bow Arts caff.
New Arrival
Food & Drink
Husk Brewing
There's a new brewer in town, right where the first IPAs were once shipped from. Watch out for live music nights in the bar.
Community
London Borough of Newham
The dockside HQ of Newham Council.