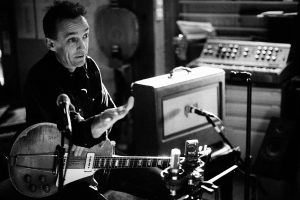 Live at the Silver Building: Justin Adams and Mohamed Errebbaa
As one of the UK's most inspired guitarists, Justin Adams combines performing with Robert Plant and working with Mediterranean and North African musicians.
For this latest project he's created a partnership with celebrated Gnawa musician from Morocco, gimbri (three-string guitar) player Mohamed Errebbaa. Get ready for a night of global music that will see intensity, power chords and stories of arrival and departure.
The series Live at the Silver Building is three nights of free world-class music programmed by renowned creative producers, Serious. The other concerts will see performances from singer-songwriter and guitarist Rosie Frater-Taylor and singer and violinist Alice Zawadzki. And don't miss Soho Radio's Max Reinhardt's sessions at the Good Hotel bar, inviting musicians such as Camilla George and Arun Ghosh to join him as he blends beats and live music.


Suitable for ages 14+

For your visit
Outdoors
Thames Barrier Park
This dramatically-landscaped park is the best place to watch the Thames Barrier in action.
Art & Culture
The Silver Building
Once the offices of Carlsberg-Tetley, this concrete block now offers workspaces to dozens of creative businesses. Look out for their regular events and exhibitions.
Food & Drink
Airline Cafe
No one complains about all-day breakfast for under a fiver. Right next to the ExCeL, this cafe-diner opens early to late.