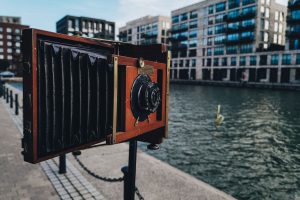 Art & Culture
Living Histories; glass plate portraits by Selina Mayer
Step back in time and be part of this online photographic exhibition by visual artist and photographer Selina Mayer. Using an antique glass plate camera manufactured in 1880, the same year Albert Dock was first built, Selina will be creating a series of photographic portraits of local people from the waterfront.
These portraits will be brought together to connect the current inhabitants of the docks with their historical counterparts through the same visual language and will form an online exhibition.
Due to restrictions, Selina is exhibiting the portraits she has already taken online. Take a look to see the current exhibition now: https://www.selinamayer.com/living-histories
Additional portrait sessions will be taking place throughout December (weather and restrictions permitting), if you would like to have your portrait taken, please contact Selina directly via email: selina@selinamayer.com
For your visit
Community
Henley Arms
A local fixture since 1901, this pub seems untouched since its post-war refurbishment. Step back in time and enjoy a pint over a game of darts.
Attractions
The Crystal
One of the world's most sustainable buildings is also a striking landmark.
Outdoors
Royal Wharf Gardens
In this garden in the centre of the Royal Wharf development, you'll find a memorial to the Silvertown Explosion.