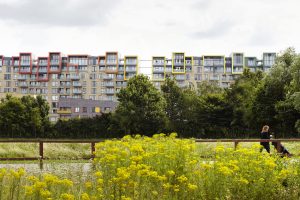 London, City of Villages: A Guided Tour of Greenwich Millennium Village
Up until the Georgian era the vast majority of London was contained within the physical boundary of its old Roman walls. Beyond which lay idyllic villages before they were swallowed up by an expanding metropolis that has become the sprawling capital of today. Modern London has lived up to this legacy as a City of Villages and Greenwich Millennium Village is a thriving modern-day example.
Jestico + Whiles is updating and completing the award-winning Masterplan for Greenwich Millennium Village initiated by architect Ralph Erskine in the late 90s. Bounded on three sides by the River Thames, a noisy aggregates wharf and busy main roads, the design challenge confronts these physical boundaries. Calling to mind Erskine's pioneering work on Byker Wall, a housing estate designed to shield the site from an intended motorway in Newcastle, we aren't alone in designing with acoustic barriers in mind. Our 11-storey building on the scheme acts as an acoustic barrier to protect the heart of the community, demonstrating how, sometimes, physical barriers can work for good.
Join us on our guided tour, starting off at the Royal Docks and taking to the air on the Emirates Air Line, the cost inclusive, to explore our bounded new community development creating 1746 high-quality sustainable homes.
Enjoying views of the O2 to the west, verdant parks to the south and the Thames Barrier and beyond to the east. On foot, our guided tour will take us past Erskine's earlier phases, through Southern Park and finally down towards our continuing work on Greenwich Millennium Village.
There is a limited number of tickets available for this exclusive tour.
For your visit
Food & Drink
Starbucks Coffee
Just off the walkway linking Custom House DLR with the ExCeL, this branch is a favourite quiet spot for students.
Places To Stay
Premier Inn
Perfectly positioned for access to the ExCeL.
Activities
London Royal Docks Open Water Swimming
Swim outside year round against the historic backdrop of Royal Victoria Dock. Safety tagging included.