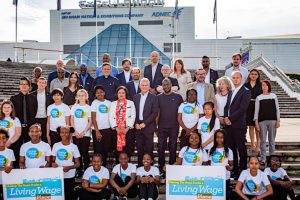 Events
London Living Wage Event – Achieving LLW Status
Many local employers are thinking when, not if, they become a London Living Wage Employer. Take the plunge in 2023 and sign up for our free Living Wage Event to help set your organisation on the path to being accredited as a Living Wage Employer this year! At the event you will have the opportunity to hear from local employers, both large and small about the steps they took on their journey to be accredited.
Find out about any challenges they faced, how they addressed these through the free confidential support from the Living Wage Foundation and the business benefits like higher retention rates that they have gained through accreditation.
You will also have the opportunity to network with like-minded local employers and get confidential 1-2-1 advice from the Living Wage Foundation to help you understand and map your journey to accreditation. Maybe you want to pay the Real Living Wage but have reservations about the impact on your business in the current climate, do come along to this event to have your questions answered.
We do hope you can join us for this participatory and networking event with some of Newham's active businesses and explore joining the movement of over 11,000 employers across the country working together for a Living Wage.
The event is kindly hosted by Expressway.
Nearest Station: West Silvertown (DLR)
This event is organised by the Royal Docks Living Wage Action Group, a network of businesses, civil society groups and the council who work together to embed the Living Wage in the Royal Docks and across Newham. Thanks to the work of those in this group Newham has gone from having 6 to 69 living wage employers with thousands of people getting a pay rise and businesses seeing a boost in retention and a reduction in recruitment costs.
For your visit
Art & Culture
Making Space: Take Your Place
This final part of Jessie Brennan's public art series was created in collaboration with the sports communities at Royal Docks Adventure.
Activities
Royal Docks Adventure
Power boats, rowing boats, dragon boats, canoes – everything you need for an afternoon on the water.
Community
London Borough of Newham
The dockside HQ of Newham Council.