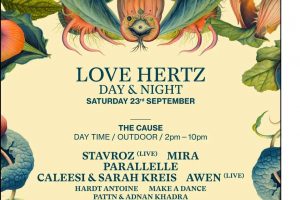 Art & Culture
Love Hertz by Day - Stavroz, Mira, Parallelle, Caleesi & Sarah Kreis, AWEN @ The Cause
A two-part event presented by fabric's new event platform Love Hertz takes place for the very first time on 23rd September showcasing live acts and DJ sets for a sun-soaked day session, followed by a heated club night finale.
The daytime edition takes place at the sprawling East London venue The Cause, with live sets from Stavroz, Parallelle (Hybrid) and AWEN. Meanwhile, Mira, Caleesi & Sarah Kreis, Hardt Antoine, Make A Dance and Pattn & Adnan Khadra join us for sets scoping a range of buoyant and euphoric sounds.
As the sun sets, we will head back to Farringdon for a classic late-nighter here at fabric, with Mano Le Tough, Mira, Elif, Heimlich Knüller, Mimi Love and B.o.T taking over for a staple club showcase.
Join us for the day edition, club night, or both.
Tickets are available for the Day & Night parties separately or together as a combined ticket.
For your visit
Community
Royal Docks Learning & Activity Centre
RDLAC has spent 50 years serving the North Woolwich community, from after-school clubs to conservation projects.
New Arrival
Food & Drink
The Snack Shack
Homemade cakes and hot food are on offer at this friendly and laid-back spot on St. John's Green.
Food & Drink
The Girl of Sandwich
Primarily a takeaway, this sandwich shop is popular with locals and workers alike.