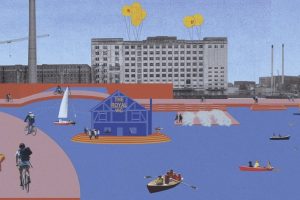 LSA Royal Docks Project
Do you want to see what architecture students would do if they got their hands on the Royal Docks?
Students from the London School of Architecture present their ideas for the Royal Docks including suggestions for activating the water, Millennium Mills and much more.
This is a roving exhibition that will start at RDLAC in June and be available at other local community hubs for people to visit and comment on.
Image: Charles McLaughlin, London School of Architecture.
Part of the London Festival of Architecture 2019.
For your visit
New Arrival
Art & Culture
Making Space: Take Your Place
This final part of Jessie Brennan's public art series was created in collaboration with the sports communities at Royal Docks Adventure.
New Arrival
Business
Royal Albert Dock
This new commercial heart for London will stretch from Royal Albert DLR almost as far as Cyprus.
Business
ExCeL London
The international convention centre has hosted everything from Comic Con to the Olympics.