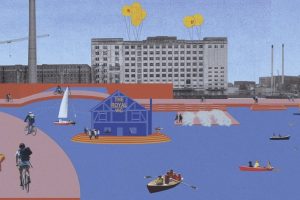 LFA 2019
LSA Royal Docks Project
Do you want to see what architecture students would do if they got their hands on the Royal Docks?
Students from the London School of Architecture present their ideas for the Royal Docks including suggestions for activating the water, Millennium Mills and much more.
This is a roving exhibition that will start at RDLAC in June and be available at other local community hubs for people to visit and comment on.
Image: Charles McLaughlin, London School of Architecture.
Part of the London Festival of Architecture 2019.
For your visit
Food & Drink
Nani Café
Beans on toast, paninis, and other homely lunch options at equally homely prices.
Food & Drink
The Crystal Café
Overlooking the docks, this cafe serves home-made salads and bistro-style sandwiches.
Food & Drink
Starbucks Coffee
Just outside Thames Barrier Park, the outdoor seating makes this Starbucks a favourite spot for dog walkers.