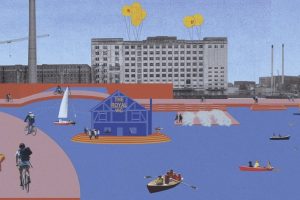 LSA Royal Docks Project
Do you want to see what architecture students would do if they got their hands on the Royal Docks?
Students from the London School of Architecture present their ideas for the Royal Docks including suggestions for activating the water, Millennium Mills and much more.
This is a roving exhibition that will start at RDLAC in June and be available at other local community hubs for people to visit and comment on.
Image: Charles McLaughlin, London School of Architecture.
Part of the London Festival of Architecture 2019.
For your visit
Food & Drink
Yi-Ban
This Chinese restaurant occupies a floor of the London Regatta Centre overlooking the Docks, meaning diners can plane-watch over a plate of dim sum.
Places To Stay
Aloft London ExCeL
Four-star Marriott hotel with a dockside restaurant terrace, wood-lined interiors, and a striking skyline.
Activities
London Royal Docks Open Water Swimming
Swim outside year round against the historic backdrop of Royal Victoria Dock. Safety tagging included.