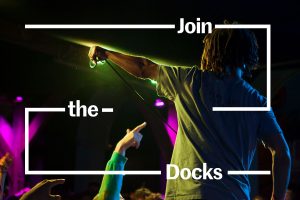 Lyrix Organix: Secret
Lyrix Organix presents Secret: an exclusive workshop series of spoken word, rap, music production, and beatbox, across three weekends in secret locations at the Royal Docks.

Fly a cable car over the River Thames, land at the docks, and you'll be whisked away to a hidden venue for a masterclass, delivered by some of the UK's finest poets, rappers, musicians and champion beatboxers.

This event is free, but the organisers ask that you book your place as spaces are limited. Free tickets are available for booking on the following dates and you must be over the age of 18 to attend.
- Sat 17 August: Beatbox
- Sat 24 August: Spoken Word, Rap & Activism
- Sat 31 August: Women in HipHop, 11am - 3pm. Must be over the age of 16 to attend.


For your visit
Outdoors
Lyle Park
It's easy to miss Lyle Park's narrow entrance, but its triangle of green with a river view is worth exploring.
Places To Stay
Aloft London ExCeL
Four-star Marriott hotel with a dockside restaurant terrace, wood-lined interiors, and a striking skyline.
Activities
NASSA Sport
Community basketball club for 8 to 18 year-olds from Newham, in partnership with UEL.