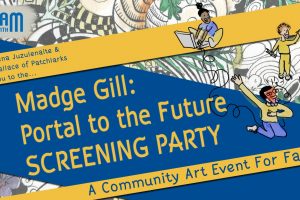 At the Docks
Madge Gill: Portal To The Future - Screening party
Join Newham Heritage – artists, Oliver Wallace and Elena Juzulenaite – and the group of young creators we have been working with, as we celebrate the grand finale of our 6-week project based on works of east London artist Madge Gill.
There will be a host of events including:
An Immersive Screening of our film: Portal to the Flower Future.
We will be giving the stage to the young creators from the Royal Docks for the premiere of their film! They have been working on it over the last 5 weeks, creating a message of flower-filled hope to the future of Newham. This screening will be very special – we are planning a multi-sensory experience created especially for the event, that will bring you into their vision of a floral future!
An Art Workshop For Families
Under Elena's guidance, create your own ink and watercolour drawings inspired by local flora and the artworks of Madge Gill.
A Family Storytelling Show
Oliver will bring his energetic storytelling style into play, and tell an interactive time-travelling story inspired by Madge Gill's love of flowers.
An Exhibition
As well as all this, the artworks created during the project will be on display in our exhibition.
This event will show why Madge Gill and why heritage is important.
For your visit
Activities
Royal Docks Adventure
Power boats, rowing boats, dragon boats, canoes – everything you need for an afternoon on the water.
Community
Asta Community Hub
Asta takes a holistic approach, supporting the North Woolwich and Silvertown community from birth to old age.
Art & Culture
Lightship 93
A photo shoot location like no other: a meticulously-preserved lighthouse vessel.
Similar events