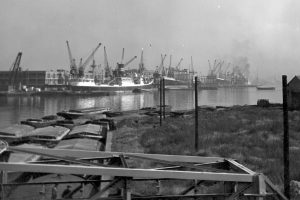 Events
Making a home in Silvertown
A virtual guided walk of Silvertown and Royal Docks by poet and researcher from Birkbeck, University of London, Matt Martin.
Three audio and visual walks in the Silvertown area, exploring the various people and their experiences who have found this area of Newham their home. Topics include; how the Royal Docks came about, the expansion of the docks and industry in the area, the Silvertown Explosion, the tallest bronze sculpture in the UK and how Silvertown came to be called Silvertown!
This tour is online now and can be enjoyed throughout the festival
For your visit
Food & Drink
Heroica Lounge
It's a bus, it's an Italian restaurant; you decide whether to order pizza or pretend to drive.
Food & Drink
Sainsbury's Local
Open every day 7am til 11pm.
Food & Drink
Nakhon Thai
Thai restaurant overlooking the docks, with a Polynesian-style cocktail bar.